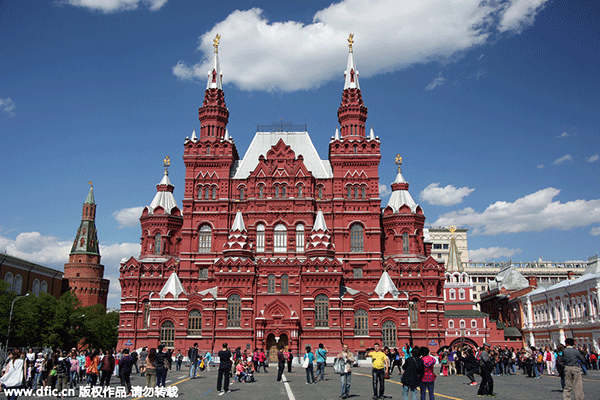 Tourists take pictures at Red Square in Moscow May 12, 2015. [Photo/IC]
RCIF banks on Belt and Road Initiative, infrastructure projects in other major markets for sustained returns
The Russia-China Investment Fund, a private equity fund formed by the Russian Direct Investment Fund and China Investment Corporation, said on Thursday it will continue to focus on generating strong returns and advance bilateral economic cooperation.
The fund, along with its partners, has so far invested about $2 billion in 10 bilateral deals with good potential, a top official told China Daily.
"We are particularly interested in sectors like infrastructure, tourism, agriculture and shipbuilding," said Kirill Dmitriev, co-CEO of the Russia-China Investment Fund and CEO of the Russian Direct Investment Fund.
"We have immense confidence that our investments will yield practical results," said Dmitriev.
The RCIF was set up by CIC, China's sovereign wealth fund, and the Russian Direct Investment Fund, its counterpart in Russia, in 2012. Both sides put up an initial seed capital of $1 billion each.
Among the deals that the RCIF has invested in is the first Russia-China railway bridge across the Heilongjiang River. Other projects include tourism and elderly care infrastructure in the two nations and an aircraft leasing platform to promote the Sukhoi Superjet 100 passenger planes in Chinese and other Asian markets.
According to Dmitriev, the newly set up Asian Infrastructure Investment Bank and China's Belt and Road Initiative have shown the rest of the world the need to support long-term infrastructure projects.
"China is playing a positive role in this regard," he said.
Dmitriev said tourism is one of the sectors that offers rich pickings and the fund plans invest in projects in Moscow, St. Petersburg and Hainan Island in China. The fund is also working with its partners to offer travel packages for Chinese tourists in Europe via St. Petersburg.
"We set up a Sino-Russian tourism fund last year and expect to clinch our first deal early next year."
Dmitriev said it is important for Chinese companies to find the right partners while investing in Russia. They should consider reputed organizations like RCIF, RDIF or other large Russian companies to partner with as most of these firms will have shared interests.
"The depreciation of the rouble is a good opportunity for foreign investors," said Dmitriev.
Trade between China and Russia reached $31.1 billion during the first six months of the year, a 30.2 percent fall over the corresponding period in 2014, according to customs data.
Andrey Denisov, the Russian ambassador to China, said that bilateral trade had declined due to the steep fall in raw material prices.
The two-way trade is changing from goods to projects and the annual trade volume will cross $100 billion in the near future, said Denisov.
Ling Ji, director-general of the department of Eurasian affairs at the Ministry of Commerce, said earlier this year that the two sides are taking positive steps to face the trade challenges.
He said China and Russia are both undergoing the development and reform period and have enough motivation to cooperate with each other.