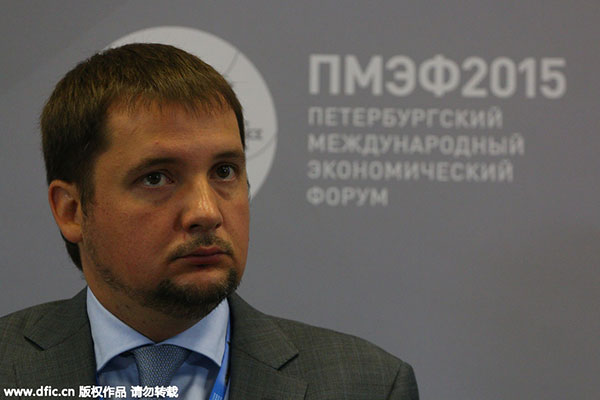 Alexander Tsybulskiy, Russia's deputy minister of economic development, sits during St.- Petersburg International Economic Forum in Saint-Petersburg , Russia on June 18, 2015.[Photo/IC]

Economic zones in inland regions to boost infrastructure links between nations
China and Russia will upgrade border area business and economic zone cooperation under the mechanism of the China-Russia Prime Minister Regular Meeting Committee to boost trade and investment activities as their economies post slower growth, said a senior Russian official.
Alexander Tsybulskiy, Russia's deputy minister of economic development, said on Tuesday Russia is planning to establish 14 economic development zones and diversify the functions of Zarubino Port in its Far East region.
Unlike special economic zones in China, which are located within its border provinces and enjoy favorable trade laws and business regulation in comparison with the rest of the country, Russia's economic development zones are established in inland areas. The federal government will provide even more flexible policies to these zones to attract foreign companies.
Low-cost land use and leasing terms, tax and insurance preference, better infrastructure and public services, simplified customs procedure and favorable conditions to attract high-end talent, as well as rules similar to developed countries will all be provided to foreign investors to set up businesses.
"The new zones will offer tax benefits, easier goods clearance, work visas and cross-border transportation facilities to Chinese businesses, especially infrastructure companies, to help the region build a better industrial and urbanization foundation," Tsybulskiy said.
He said work groups for border area trade and economic zone cooperation will be supervised by the Economic and Trade Cooperation Branch Committee of China-Russia Prime Minister Regular Meeting Committee.
Ling Ji, director-general of the department of Eurasian affairs at the Ministry of Commerce, said Chinese investors have strong experience of building various large-scale infrastructure projects in Africa, South America and the Middle East.
"With sufficient policy and financial support from both sides, Chinese investment and expertise will not only be used in projects for the 2018 FIFA World Cup in Russia but also in the eastern part of Russia to further connect more potential market destinations in the Northeast Asian region," said Ling.
Song Yaoming, commercial counselor with the Asian affairs department of the Ministry of Commerce, said large-scale infrastructure projects-including energy and resource exploration, manufacturing, aviation, nuclear power and shipbuilding-offer the best potential due to long-term and strategic significance to Chinese companies, which are keen to expand their presence through the trading route of the Silk Road Economic Belt initiative.
Even though trade between China and Russia dropped by 30 percent year-on-year in the first quarter of this year, it was mainly affected by the depreciation of the rouble and the declining prices of commodities. The trade volume of agricultural products between the two sides doubled during the same period.