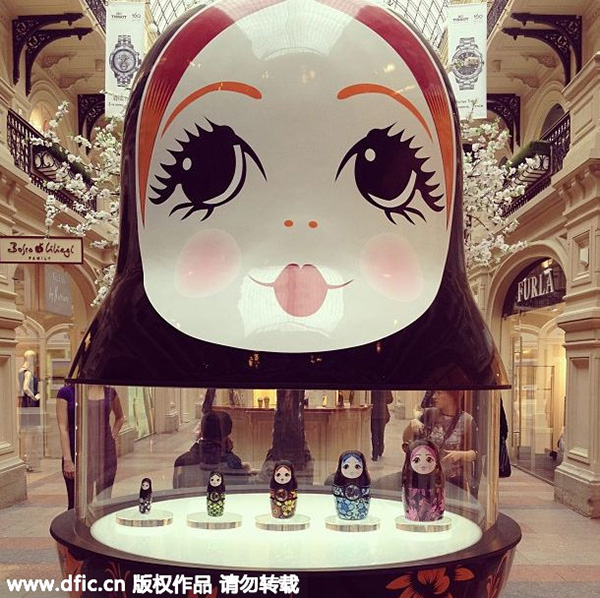 A set of Russian nesting dolls at Moscow's GUM department store, Russia, Jan, 2013. [Photo/IC]
MOSCOW - The depreciation of the Russian rouble has attracted more foreign tourists to Russia with Chinese visitors accounting for a substantial part of the increase this year, the Russian Union of Travel Industry said Thursday.
"A year ago, Moscow experienced a sharp outflow of foreign tourists due to events in Ukraine. But from June 2015 tour operators started noticing a recovery and by August the positive trend has firmed," Irina Tyurina, a spokeswoman for the union, was quoted as saying by Interfax news agency.
Industry experts said a trip to Russia this year costs nearly half of what it did a year ago due to the weaker ruble. The ruble was traded Thursday on the Moscow exchange at 63.7 to the US dollar compared with 52-55 from the end of June to the middle of July.
Various Russian regions have witnessed an increase of guests from China. In St Petersburg, the country's second-largest city and a major tourist destination, the number of Chinese visitors rose by 150 percent during the January-July period year on year.
The Sverdlovsk region in the Ural Mountains and localities around the Baikal Lake in southern Siberia are also among Chinese tourists' preferred destinations this year.
In 2014, 2.5 million tourists visited Russia, which represented a drop of 4 percent year on year, official data showed.