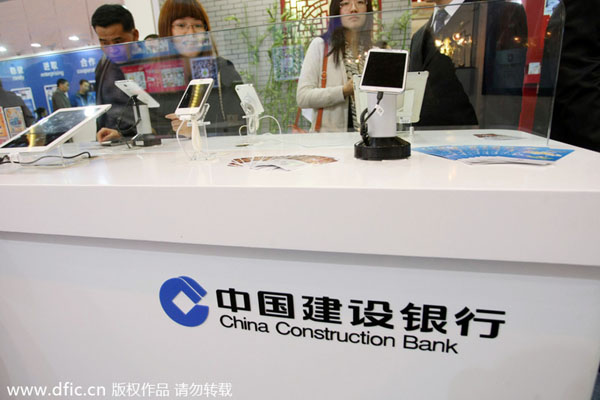 Employees are seen at the stand of China Construction Bank (CCB) during an exhibition in Shanghai, November 23, 2013. [Photo/IC]
BEIJING - China Construction Bank (CCB), the country's second-largest lender, has reported a big rise in the sums it is loaning for infrastructure projects, which the government has identified as a key focus to drive economic growth.
The bank's outstanding loans for infrastructure stood at 2.67 trillion yuan ($416.87 billion) as of the end of March. The loans increased by 101.4 billion yuan in the first quarter, taking up 63.81 percent of the bank's new business loans, said Cai Yarong, deputy manager of CCB's business department, on Thursday.
From 2010 to 2014, more than 40 percent of the bank's annual loans for public affairs was allocated to infrastructure construction, Cai said.
CCB's outstanding lending to strategic emerging businesses, those working in sectors singled out by the government for preferential policies including interest rates, amounted to 38.81 billion yuan by the end of March, 15 percent more than at the end of 2014.
Strategic emerging sectors include energy saving and environmental protection, next-generation information technology, biotechnology, high-end equipment manufacturing, new energy, new materials and new-energy vehicles.