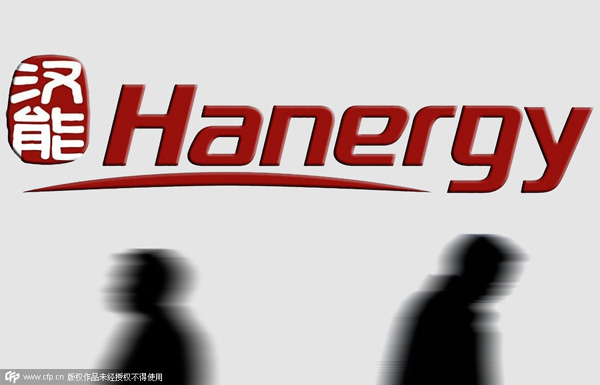 On May 20, about 47 percent of Hanergy's market value vanished in minutes and it is now under investigation by the Hong Kong Securities & Futures Commission. [Photo/CFP]
Hanergy Holding Group, the parent of Hong Kong-listed Hanergy Thin Film Power, is mulling to buy back stocks bought by some employees before its shares plunged 47 percent, reported Bloomberg.
The plan, aimed at helping employees who bought the shares at about HK$6 from the parent, is being studied and hasn't been approved, added Bloomberg citing people familiar with the matter.
Hanergy Thin Film Power came under the spotlight as the company saw $18.6 billion erased from its market capitalization in just 24 minutes of trading on May 20 before it was suspended. The shares were halted at HK$3.91.
Before the sell-off, the stock surged more than six fold over the past years. The spin made Li Hejun, chairman of Hanergy Group, China's richest person in April with a personal wealth of more than $45 billion.
The Hong Kong securities regulator directed the city's stock exchange to extend suspension of all dealing in shares of Hanergy Thin Film Power, according to a statement on July 15.
The Securities and Futures Commission (SFC) had intervened under a rarely used provision which allows it to halt trading in a stock if the commission believes the company concerned has failed to comply with SFC rules or if the SFC deems it is in the public interest to do so.
Exchange data showed the provision could lead to stocks being suspended for years in some cases, according to Hong Kong exchange.
Hanergy Thin Film Power announced last week that it intends to "challenge the SFC's decision judicially" if necessary, saying the company can't provide audited financial statements of Hanergy Holding or detailed terms of material outstanding loans of Li Hejun requested by the SFC.
The company argued that the required documents belong to private financials relating to the internal affairs of Hanergy Holding which it has no control.