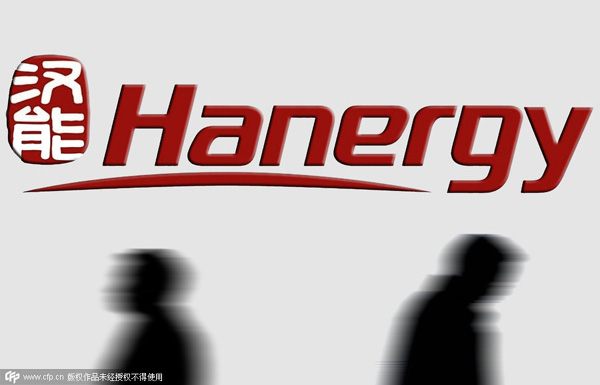 On May 20, about 47 percent of Hanergy's market value vanished in minutes and it is now under investigation by the Hong Kong Securities & Futures Commission. [Photo/CFP]
One of the many mysteries behind the share price collapse of the solar panel maker controlled by Li Hejun is this: Which of the Chinese billionaire's many creditors risk losing every yuan they put into his company?
A plethora of lenders are exposed to Hanergy Thin Film Power Group Ltd and its parent company, including Industrial and Commercial Bank of China Ltd, which is owed tens of millions of dollars.
On May 20, about 47 percent of Hanergy's market value vanished in minutes and it is now under investigation by the Hong Kong Securities & Futures Commission.
Creditors are nervous. A group of 11 lenders have asked for a meeting to voice their concerns and discuss their $82 million loan, said people familiar with the matter.
"The interesting thing with Hanergy is that so much is happening with the parent company that investors know nothing about," said Charles Yonts, an analyst with CLSA Asia-Pacific Markets in Hong Kong. "The opacity about parent finances and billings is extraordinary."
Li has tapped a variety of financing sources since the Hong Kong unit's stock started surging last year. They include policy-bank lending, short-term loans from online lenders with interest rates of more than 10 percent and partnerships with local governments.
Lenders also include China Everbright Bank Co Ltd, China Minsheng Banking Corp, two of the companies set up to manage banks' bad assets, and Harvest Fund Management Co, one of the country's biggest fund managers with assets of more than $55 billion.
A Hanergy spokesman declined to answer questions about the company's debts. But Li said Hanergy has never been better. "Hanergy is in its best shape since it started," Li said in an interview published last Thursday.
Among the 11 banks behind the $82 million loan is ICBC Asia, the Hong Kong unit of ICBC. That's only part of the bank's involvement: ICBC has lent Hanergy units at least 400 million yuan ($64.5 million), according to people familiar with the matter who asked not to be identified because ICBC has not publicly disclosed the information.
Export-Import Bank of China offered a standby letter of credit for the 11-bank loan. Separately, China Development Bank extended a 30 billion yuan line of credit to Hanergy in 2011, according to Xinhua.
Local governments have also provided money.
Hanergy entered separate financing deals with governments in Sichuan, Shandong and Hebei provinces. In at least three cases, Hanergy or its units pledged the entire registered capital of projects to China Huarong Asset Management Co and China Orient Asset Management Co, two of the firms China created 16 years ago to handle bad loans from the nation's largest lenders.
A Huarong press release features pictures of Li and Huarong's chairman, Lai Xiaomin. Last week, Huarong denied a report that it lent Hanergy $200 million backed by shares.
Hanergy also pledged ownership stakes in a hydropower station in southern China to four trust companies, a guarantee company and a subsidiary of Harvest Fund Management in exchange for credit.
It also guaranteed more than 100 million yuan in loans from online microfinancer Itouzi, and took 18.5 million yuan in loans from another microfinancer, Jimubox, according to the two lenders' websites.