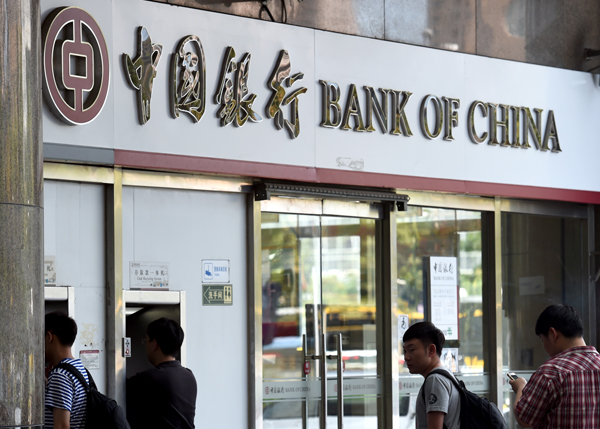 People wait outside a Bank of China branch in Beijing on July 11, 2014.[Photo/Agencies]
Bank of China Ltd plans to double its mortgage lending in Australia in two years and wants to offer more home loans to local people, the bank's country head said.
There is demand for dwellings from Australians of Chinese origin and investors from the Chinese mainland, Hu Shanjun said in an interview last week in Sydney. Bank of China hopes to reach more non-Chinese borrowers in the country through a product distribution agreement with Australian Finance Group Pty, the nation's biggest mortgage broker, he said.
"I think more and more local Australians will be our customers," Hu said. Australia's market "needs the capital, the investment from outside", he said.
Bank of China is seeking a bigger slice of a A$1.4 trillion ($1.25 trillion) mortgage market that is almost 80 percent controlled by Commonwealth Bank of Australia and its three largest rivals. Chinese buyers overtook Americans to become the biggest foreign acquirers of Australian real estate in the 12 months through June 2013, government data show.
Lawmakers are probing foreign property ownership and the central bank has signaled concern about prices even as it holds its cash target at a record low of 2.5 percent. Residential property prices across the nation's capital cities climbed 8.9 percent in the year to October, according to figures from information provider CoreLogic.
Bank of China, the fourth-largest Chinese lender by market value, held A$672 million of Australian mortgages as of Sept 30, according to Australian Prudential Regulation Authority data. That was up 13 percent from a year earlier, about twice the pace of growth for the Australian home-loan market as a whole.
"In the coming two years, I hope that we can double the amount" of mortgages that Bank of China currently has, Hu said.
Commonwealth Bank, Australia & New Zealand Banking Group Ltd, National Australia Bank Ltd and Westpac Banking Corp held A$1.08 trillion in mortgages at the end of September, APRA data show.
Residential term loans from subsidiaries of foreign banks climbed 5.8 percent to A$54.9 billion in the 12 months through September, with 33 percent of those mortgages on investment properties, figures published on Tuesday by the APRA show.
Bank of China's mortgage customers include people of Chinese origin who come to the bank through Chinese brokers based in Australia, Hu said. It has nine branches across four cities and about 300 employees in Australia, he said.
AFG, which signed an agreement with Bank of China on Oct 28, is a mortgage-aggregating group with more than 2,100 brokers across Australia that processes more than A$4.5 billion of financing a month, according to its website.
The company, based in Perth, is planning to offer Bank of China products initially through about 30 brokers in the state of New South Wales before expanding into other regions, said Mark Hewitt, AFG's general manager of sales and operations. The first mortgage applications are likely to begin coming through within the next week or so, he said on Monday.
"Probably about 25 percent of the business we generate in New South Wales is for either people of Chinese origin or overseas Chinese investors, so there is just a natural fit there with Bank of China," said Hewitt, noting that the agreement between the two companies represented an opportunity for the Beijing-based lender to expand beyond its traditional base.
Bank of China had lent A$9.7 billion to corporate customers as of Sept 30, up from A$7.4 billion a year earlier, according to APRA data. It plans to provide bridge loans and enter agriculture, food and infrastructure financing, Hu said. It currently offers clients syndicated loans as well as project and trade finance.
Total loan volumes from Chinese banks have exploded since the global financial crisis, rising to more than A$15 billion as of Sept 30 from less than A$500 million in April 2008, APRA data show. Economic ties have deepened between the two nations over recent years, with Australia ramping up mining exports, China emerging as its largest commercial partner and the two nations agreeing to a free trade deal.
"We are very optimistic for the coming years," Hu said. "We are ready to provide more services here."