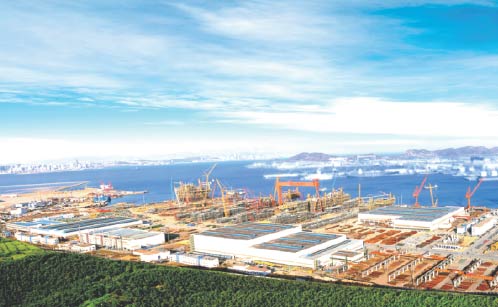 An offshore engineering site of COOEC in Qingdao, Shandong province. Headquartered in Tianjin, COOEC owns another two offshore engineering sites in Tanggu, Tianjin and Zhuhai in Guangdong province. The company's current operational area is around 1.42 million square meters and it plans to expand it to 2.07 million sq m by 2018. CHINA DAILY
China aims to raise petroleum output by updating its technology and stepping up oil and gas exploration across Bohai, East China and South China Seas.
The plan was outlined in an energy development scheme for 2014 to 2020 issued by the State Council on Wednesday.
To accelerate offshore oil and natural gas exploration, China will improve its own technology as well as actively seek overseas partners.
The country will attach equal importance to onshore oil fields, stabilizing old sites and exploring new alternatives, especially those in West China.
Related: Plan sets caps on energy use
Coal's proportion of overall mix cut to 62% by 2020
China has announced plans to cap its annual energy use equivalent to 4.8 billion metric tons of standard coal by 2020, in an effort to cut carbon emissions.
The headline figure was revealed within the State Council's energy development strategy plan (2014-20), which also detailed moves to cut coal's share of the country's overall energy mix to 62 percent from the current 67 percent, and raise non-fossil fuel consumption to more than 15 percent.
Last week President Xi Jinping and US President Barack Obama announced both countries will curb their greenhouse gas emissions over the next two decades.
Under the agreement the US would cut its 2005 level of carbon emissions by 26 to 28 percent before 2025. China would peak its carbon emissions by 2030 and also aims to get 20 percent of its energy from zero-carbon emission sources by the same year.
"The plans mean that China has to keep primary energy consumption growth at lower than 3.5 percent annually over the next seven years," said Li Yizhong, president of the China Federation of Industrial Economics.[More]