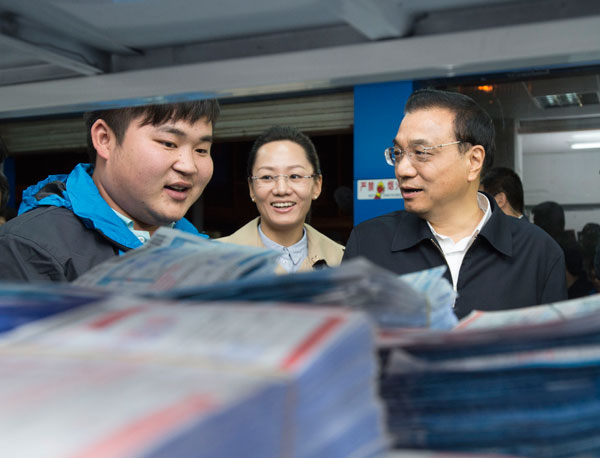 Premier Li Keqiang talks on Wednesday to Fan Haohao (left), a courier at an express delivery station, in Qingyanliu, a village in Zhejiang province. The village is a hotspot of ecommerce shops and has more than 20 delivery companies. PHOTO BY WANG YE / XINHUA
Premier visits a bustling village whose growth is driven by Internet
Premier
Li Keqiang
visited China's leading e-commerce village on Wednesday, a trip that experts said shows the government regar
ds
Internet-based retailing as increasingly important as it seeks to boost
domestic consumption
and drive the sluggish economy.
Li said that although the e-commerce industry is based in the virtual world, it can serve the real economy. He made his comments after visiting Qingyanliu village in Yiwu, Zhejiang province, where he talked to online shop owners, suppliers and couriers.
Tong Zhida, a wash bag manufacturer and supplier, started his business in 2001, shortly after he graduated from college. He told the premier that he was born into a farmer's family and that all of his employees are also from rural areas.
Li said e-commerce not only supports the economy, but also gives equal business opportunities to rural and urban residents alike and narrows the living standard gap between them.
Tong said: "My first job was in a local factory, but I soon quit, because I just didn't feel like it was my place. I sold different kinds of small commodities over the years, and my business has seen ups and downs. But I never gave up, since Yiwu is such a perfect place for doing business, with all the facilities, spirit and connections that an entrepreneur needs."
Qingyanliu village in southeast Yiwu looks nothing like a typical Chinese rural area. It is more like a large, busy, open-air transfer center.
Those who set foot in the area immediately notice the difference. Fully loaded freight trucks roar back and forth on blacktop roads, and villagers can log on to the Internet via a free, government-funded wireless network that covers every corner of the village.
Qingyanliu has become home to more than 2,800 e-commerce stores with estimated annual sales of 4 billion yuan ($652 million) in 2014. Each year, more than 4 million parcels are sent out from the village to destinations across the country and even abroad.
Niu Li, director of the macro projection department at the State Information Center, said the government's increased focus on e-commerce is no surprise, given that information consumption is a new area of economic growth with great potential.
According to Niu, e-commerce is the government's natural choice, as traditional industries such as manufacturing are facing challenges after years of rapid development.
Fan Jianping, chief economist at the center, said the development of e-commerce conforms with the country's next reform program - giving a bigger role to the market and companies, especially private enterprises.
Contact the writers through zhaoyinan@chinadaily.com.cn