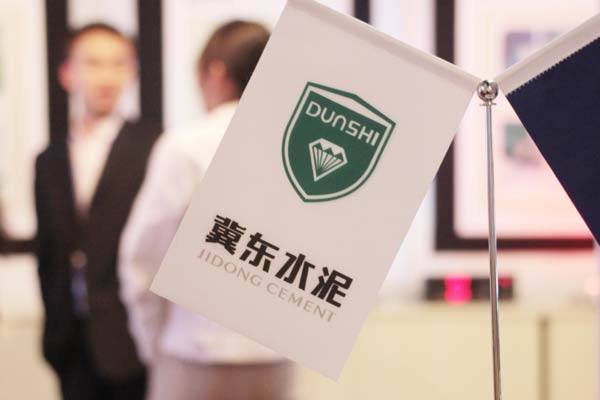 The Tangshan Jidong Cement Co logo is displayed at a recent construction materials exposition in Beijing. Three cement companies, including Tangshan Jidong, were fined for manipulating cement prices and reaching price-fixing agreements.CHINA DAILY
A subsidiary of China's largest cement company was fined for antitrust violations on Tuesday, bringing new woes to the embattled industry.
Three cement companies were fined a total of 114 million yuan ($18.5 million) for manipulating cement prices and reaching price-fixing agreements, the National Development and Reform Commission said on Tuesday.
North Cement Co Ltd, which is under the umbrella of the State-owned China National Building Materials Group Corp, was fined 40.9 million yuan, equivalent to 1 percent of the company's sales in 2013.
CNBM is one of the world's three largest cement companies, along with France's Lafarge and Swiss cement supplier Holcim.
The other two Chinese companies that have been punished are both listed companies. Yatai Group and Tangshan Jidong Cement Co were both fined 2 percent of their 2013 sales.
The Antitrust Law states that violators can be fined between 1 and 10 percent of their sales revenue for the previous year.
The antitrust regulator said the level of penalties varied because of differing levels of cooperation and improvement actions taken by the companies. The regulator also gave consideration to the overcapacity problem currently faced by the cement industry.
According to the antitrust investigations, the three companies reached agreements to fix minimum factory prices for cement products, that they should be no less than 300 yuan per metric ton starting in April 2011.
Such deals violated the antitrust law and damaged interests of downstream industries and customers, the NDRC said.
The industry is suffering due to the economic slowdown, said an official of the China Cement Association who declined to be named.
"Unlike the auto industry's antitrust probes, with the price of luxury cars being much higher in China than overseas, the cement industry is just the opposite. The average price of cement products is around 800 yuan per ton overseas, but the price in China is around 200 or 300 yuan per ton," he said.
Antitrust penalties would serve to avoid a price war, but the long-term solution for the industry will come with more mergers and acquisitions, he said.
"Profits of the cement industry should see a big bounce in the second half, but the signals are not obvious this year due to the slowing economy," he said.
Total cement production in China reached 2.41 billion tons in 2013, up 9.57 percent year-on-year.