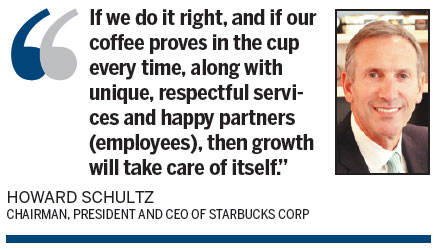 Q&A with Howard Schultz
What is your favorite way of drinking coffee?
I start my day with a French press of Aged Sumatra at around 5 am. This was the first Starbucks coffee I tasted in 1981 and still remains one of my favorites. Then I stop at a store or two and I have a doppio espresso macchiato. During the day I keep having regular sips of black coffee made in my French press.
What has kept you focused and motivated?
Constant and regular feedback from partners (employees) about how the company has made a difference to their lives is what keeps me ticking and motivated to do more.
What are your hobbies?
I've always enjoyed playing sports. As a kid, I enjoyed playing soccer and baseball. In the past few years, I have started bicycling more, and along with my wife take occasional bike trips in the Seattle area.
What is your favorite book?
I'm a voracious reader and would recommend Daniel James Brown's The Boys in the Boat.
Who is your favorite icon?
I am a great fan of American baseball and some of my favorite sports icons are from that sport. These include New York Yankees legend Mickey Mantle, Los Angeles Dodgers icon Sandy Koufax and current New York Yankees hero Derek Jeter. In the world of business I admire management trailblazer and expert Warren Bennis.
What is your idea of perfect happiness?
Enjoying the perfect shot of espresso.
What is your greatest fear?
I have scars of growing up poor and am very mindful of the vulnerability in achieving success. This has prompted us to help our own people, and the communities we serve through programs like Global Month of Community Service where, this past April, we contributed more than 49,000 hours in China.
What is the quality that you most admire in a man?
Emotional intelligence.
What do you consider to be your greatest achievement?
My proudest accomplishment at Starbucks is culture of the company, which is guided by an unparalleled set of values and guiding principles, as well as being able to share our success with our partners (employees).