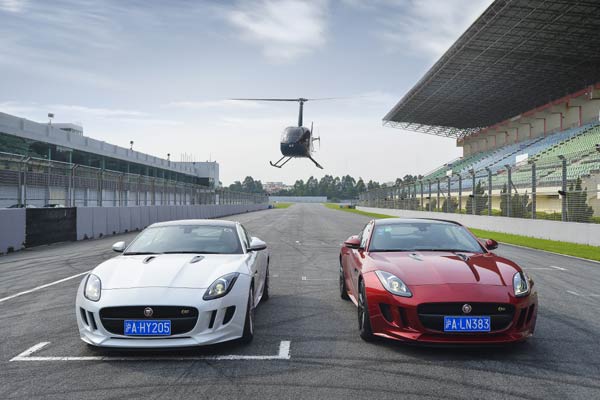 Jaguar F-Type Coupe at the Zhuhai International Circuit. CHINA DAILY
British brand Jaguar showcases power and beauty in 'Year of the Cat', Li Fangfang reports.
Jaguar's test drive of its most dynamically capable, performance-focused production car, the F-Type Coupe, took on an air of motor racing at the Zhuhai International Circuit after it launched in June.
The British premium car brand is out in full force in the Chinese market and just like its namesake animal it is fiercely beautiful.
While celebrating its 10th year in China, which has been its largest market in the world since 2012, Jaguar is setting itself up for a new sprint in terms of product planning and branding to make 2014 the "Year of the Cat".
Competing as a relative latecomer in China's premium car segment is challenging but the brand is a born challenger.
"Never Stop Achieving" is Jaguar's motto. Throughout its nearly 80 years of history, the car brand has honored its traditions and reinvented its classics.
More than half a century after creating the Jaguar E-Type, which is considered one of the world's most beautiful cars, the brand has revitalized its glory in the sports car segment with the F-Type range.
The new range is reckoned to be even greater than the E-Type and combines the brand's typical British elegance with cutting-edge technology.
The F-Type Coupe's lightweight yet strong body structure plays a critical part in developing enhanced dynamic attributes. The brand's charm in dynamics is not confined to the high-performance model.
With its XE sedan on track to roll out in September, Jaguar aims to redefine the concept of a compact sport sedan it set 50 years ago with the Mark II.
The XE will be the first in its segment to feature aluminum-monocoque construction and Jaguar's first production model to use the advanced aluminum architecture seen in the brand's C-X17 Concept. Also making a debut in the model will be the brand's self-developed all-new Ingenium engine family, which is made of a series of lightweight, modular diesel and petrol turbocharged engines with segment-leading power torque and fuel consumption.
To meet the market's increasing need for versatile styling and diversified lifestyles the brand brought its XF Sportbrake to China in April. The car offers both the dynamism of an XF and the practicality of an estate car.