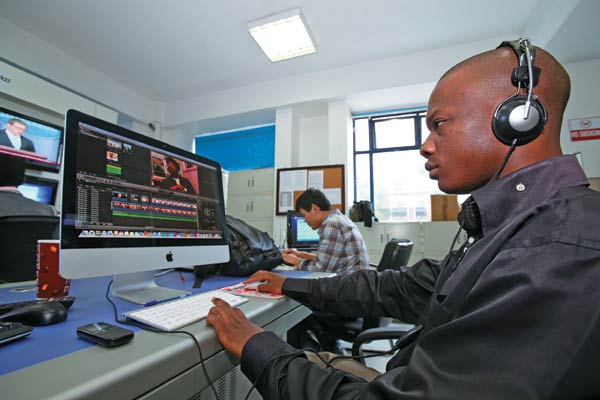 Chinese and local employees of StarTimes at a studio in Nairobi. MENG CHENGUANG/XINHUA
StarTimes, the pay TV operator, recently tempted subscribers in Nigeria with a very enticing offer.
Every month, new buyers of its set-up decoder were instantly entered in a lucky draw to win a new Toyota Yaris car. Winners were also given a one-month free subscription to further sweeten the deal.
The promo was the latest in a series from the expansive Chinese company, which now claims to have over 2.1 million subscribers across Africa, making it one of the fastest-growing and most influential digital TV operators in the region.
Last month, it cut the price of its pay-TV digital decoders in Kenya, for instance, from $34 to $22.8, and its free-to-air box from $57 to $51, to increase its market share.
The African pay-TV market is, however, still proving a brutal battle ground for StarTimes.
Not only are foreign companies now keenly focused on the region, as incomes rocket and living standards rise to match, but it still faces stiff competition from local operator DStv (Digital Satellite Television), which is owned by Naspers, the media conglomerate and Africa's largest listed company.
StarTimes, which has found its name listed five times in the Forbes list of enterprises with the greatest potential, first entered Africa in 2002, and has now registered local companies in 16 countries, including Kenya, Tanzania, Uganda and Nigeria, and started operations in nine.
Over the past three years it has invested $150 million promoting its services in Nigeria alone, for instance, developing a 1.8 million customer base in the country, making it the biggest digital TV operator there.
In 2012, Nigeria's second-largest satellite broadcasting operator ODM was near bankruptcy and StarTimes acquired it after 18 months of negotiation.
"South Africa is the political, economic and cultural center of Africa, and its media has a big impact on the region," says Guo Ziqi, vice-president of StarTimes.
"Now that we have a live broadcasting platform in sub-Saharan areas, it means a lot to our market status in the continent."
StarTimes has digital TV operations in 13 countries with more than 4 million subscribers. Its 200 branch offices spread across Africa work with more than 5,000 distributors.