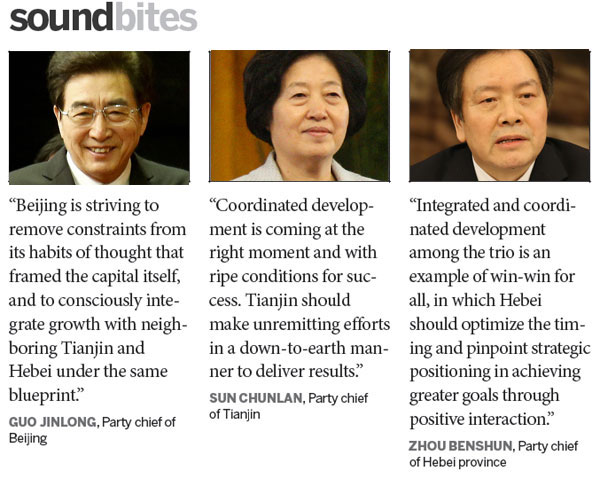 The dream of integrated development among Beijing, Tianjin and Hebei province will remain just that, experts said, unless existing barriers to the proposal can be hurdled.
The plan involving two major municipalities directly under the central government and a huge province is intended to not only ease congestion in the nation's capital but also to upgrade the industrial structure and treat the pollution in Hebei and develop the region into a new economic hub.
Beijing's gridlocked roadways and the
smog
shrouding 100 million people living on the 216,000 square kilometers that comprises all three areas have forced decision-makers to take a plan that first surfaced in 2011 and put it at the top of their priority list this year.
In an unprecedented move last month, Party chief Xi Jinping presided over a meeting on the initiative that was attended by leaders from the three areas.
"(The three) must complement one another, strengthen trilateral cooperation, deliver solid work and speed up searching for an integrated and coordinated method of sustainable development," said Xi.
The meeting is seen as spearheading an effort to put the plan in play.
The region's gross domestic product was $1 trillion last year, similar to South Korea's, and ranking 15th in the world. But the wealth is spread unevenly. The per-capita GDP of Beijing is $15,052, while Tianjin's is $11,541 and Hebei's only $6,336.
Along with this wealth gap is a patchwork of attitudes among the local governors toward the central government's proposal.
Hebei is supportive, Beijing is neutral and Tianjin's take can be described as wait-and-see.
According to Wen Kui, a researcher at Beijing's Capital University of Economics and Business, "There must be a central government-level authority to coordinate the three parties' actions and balance their interests.
"Despite their geographical proximity, Beijing, Tianjin and Hebei lack a developed private economy, industrial cohesiveness and openness, compared with the Pearl River Delta and the Yangtze River Delta," Wen added.