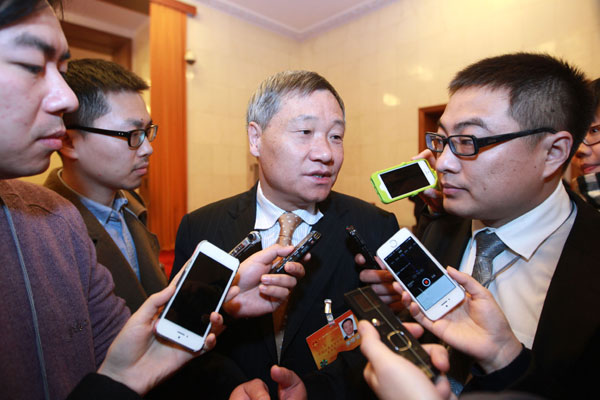 Xiao Gang (center),chairman of the China Securities Regulatory Commission,speaks with reporters after a meeting at the ongoing annual session of the National People's Congress. Xiao said the commission will push "step by step" for a registration-based reform of the initial public offering system. Provided to China Daily 
Securities watchdog aims to further internationalize nation's markets
The reform of China's capital market requires strenuous efforts but should not be over-ambitious, the head of China's securities watchdog said on Tuesday.
"China's financial market is far from fully market-oriented. Our reform aims to further commercialize it, improve the legal system and make it more international," Xiao Gang, chairman of the China Securities Regulatory Commission, said during a media brief at the ongoing annual session of the National People's Congress.
Xiao said the authority will push for a registration-based reform of the initial public offering system "step by step". The remark signaled a denial of rumors that the authority had called an end to the reform.
He also said volatility exists in all
stock market
s, not only those in emerging economies but also in developed ones.
Xiao said opening up China's capital market would involve various aspects in 2014, including expanding the investment quota for so-called Qualified Institutional Foreign Investors and Renminbi Qualified Foreign Institutional Investors.
Emphasis also will be put on a series of challenges. They include studying how China's capital market can be made more open to foreign securities, futures and fund institutions; the negative list that identifies businesses not allowed to operate in China; the introduction of more overseas institutions to the China market, a drive to push Chinese institutions to enter the global market; and the strengthening of cooperation with Hong Kong and Macao.
China's stock market has been a clear loser in the global market in contrast to the nation's booming economic growth. The benchmark Shanghai Composite Index has retreated roughly 5 percent year-on-year amid the authority's deliberations over reform of initial public offerings in the face of doubts from investors. Furthermore, insider dealing and price manipulation scandals have continued to disturb the market.
"The authority is trying to find a balance between letting the market play a decisive role and maintaining overall stability. That explains why it emphasized the role of the market before IPO reform began but keeps intervening in practice," said Oliver Meng Rui, a professor at China Europe International Business School.
A registration-based IPO system, unlike the current approval-based system, requires full information disclosure instead of strong financial records.
Analysts said the key difference between the two systems lies in whether the commission controls the pace of new listings. However, because China's stock market has been suffering from long-term unbalanced supply-demand and price distortions, there may be more jitters if it suddenly transferred to a registration-based IPO system.
Rui said a lot should be done in preparation, including pushing for strict delisting regulations and improving self-restricting mechanisms for listed companies.
The benchmark Shanghai Composite Index climbed 0.1 percent to 2001 on Tuesday after a very poor showing on Monday. Turnover shrank to 76.9 billion yuan ($12.6 billion) from 95 billion on Monday.