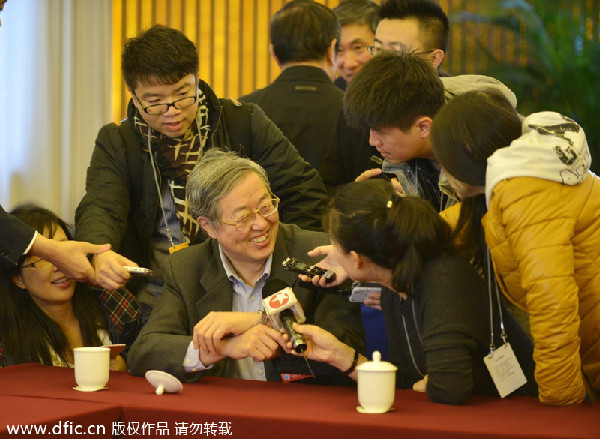 Zhou Xiaochuan, governor of the People's Bank of China, takes interviews during the Second Session of the 12th National Committe of the CPPCC in Beijing, March 4, 2014. [Photo/icpress.cn]
The People's Bank of China will not ban Yu'ebao, said governor Zhou Xiaochuan, on Tuesday, soothing jittery users of the service which has poached traditional financing long dominated by banks, Xinhua reported.
Yu'ebao, run by Tian Hong Asset Management and online payments provider Alipay, a division of China's e-commerce heavyweight Alibaba Group, tempts users with its high yield rate when allowing Alipay customers to invest in their accounts with the Tianhong Fund.
Its seven-day average annualized return rate peaked at 6.763 percent on Jan 2, while it slumped to 5.97 percent on Sunday, dipping below the 6 percent threshold for the first time.
Despite the disappointment, the service still reported 81 million users as of last month, according to data released by the Tianhong Fund. Total deposits stood at more than 400 billion yuan on Feb 14.
The rapid growth of the service also spurred concerns over underlying risks and calls for preemptive curbing measures.
Niu Wenxin, executive editor of CCTV's Stock Information Channel, called Yu'ebao "a vampire feeding on the blood of banks" and urged authorities to ban it.