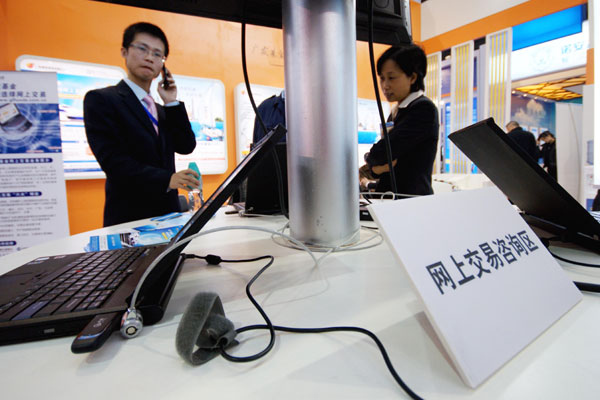 An online financial service exhibition in Beijing. Financial services via the Internet, including peer-to-peer (P2P) lending, are booming in China. Provided to China Daily
Matching borrowers and lenders proves to be lucrative for high-flying friends
A famous Chinese saying states a man should be steadfast at the age of 30. When Zhang Shishi, Yang Yifu and Li Xinhe turned 30 this year, they were definitely steadfast regarding their business of peer-to-peer lending, known as P2P.
In 2009, inspired by the story of Lending Club - a US online financial community that brings together creditworthy borrowers and savvy investors so that both can benefit financially - the three young men who had graduated from China's top universities established their own business, RenRenYouXin Group Co Ltd. The group has two major subsidiaries as Beijing Renrendai Co Ltd and Shanghai You Credit Co Ltd.
Four years later, the group raised $130 million from a group of investors led by TBP Capital, marking the largest single investment within the P2P lending industry. That number was higher than Google Inc and Foundation Capital's $125 million investment in Lending Club last May.
The number of staff of RenRenYouXin also grew from four at its launch to more than 3,000 by the end of 2013.
P2P lending is the practice of lending money to unrelated individuals and small businesses without going through a bank. This lending takes place online on P2P websites. It has an average yearly interest rate of 15 to 20 percent, more than twice China's official benchmark.
P2P operations were popular in China's Internet finance sector in 2013, with the number of new companies surging and transaction values skyrocketing.