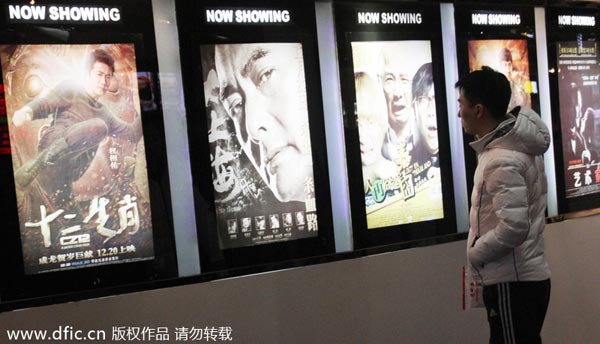 A moviegoer looks at film posters at a cinema in Beijing. [File photo/dfic.cn] 
Equity investment in the Chinese culture and media sector in 2013 reached a six-year high, and more such merger-and-acquisition deals will be made this year, a report from ChinaVenture Group said Monday.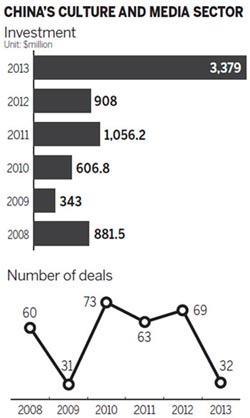 Private equity and venture capital investors injected $3.4 billion into the sector in 2013, a 372 percent year-on-year rise, though the number of deals fell from 69 in 2012 to 32 last year.
The movie and music sector was the most active in 2013 with eight deals. The animation and publishing sector followed closely on its heels.
The biggest investment deal was from a consortium of private equity firms led by Carlyle Group LP.
It closed a $3 billion leveraged buyout of Shanghai-based digital advertising agency Focus Media Holding Ltd.
Five other companies that were financed in 2013 also received funding in 2012, and 13 attracted long-term investment.
Due to IPO suspension in the A-share market last year, 93 merger-and-acquisition deals took place in the culture and media sector in 2013, up 58 percent over the previous year.