A renminbi clearing bank in London is on the horizon, the UK chancellor of the exchequer said on Thursday. The move is expected to boost the supply of yuan products in Europe and boost the development of the offshore renminbi market.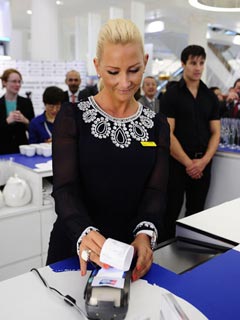 An employee prints a receipt for a China Unionpay transaction at a shopping mall in London. Zeng Yi / Xinhua  
"The UK and Chinese governments are in active discussions about the appointment of a renminbi clearing bank in London," said George Osborne, UK finance minister, when addressing the British Chamber of Commerce in Hong Kong. He said the first international renminbi conference in London will be hosted this summer.
London is now the only offshore renminbi center without an exclusive channel to obtain yuan liquidity and clearing service. Standard Chartered Bank joined with the Agricultural Bank of China in December to provide the services.
As the first offshore renminbi center, Hong Kong has had Bank of China as its renminbi clearing bank since 2003. BOC also was authorized by the People's Bank of China to be the yuan clearing bank for Taiwan at the end of 2012. Singapore acquired the Industrial and Commercial Bank of China as its clearing bank last February.
"It's very encouraging to hear the news," said Raymond Yeung, greater China senior economist for Australia and New Zealand Banking Group Limited (ANZ). "As the gate to access onshore market renminbi, a yuan clearing bank in London will boost the confidence of corporate clients across the Atlantic and thus encourage the usage of yuan as settlement currency for international trading.
"Besides, as a financial product innovation center, London will be able to contribute more yuan-denominated products," Yeung said.
"Given all the established partnerships, foreign companies will be more comfortable in developing renminbi products with banks they have been familiar with," said Steve Wang, chief China economist for Reorient Financial Markets Ltd.