Millions in Ethiopia now have direct access to a precious resource due to the efforts of a Chinese water supply system operator, report Wang Chao and Andrew Moody from Addis Ababa
For more than 10 years, a good stock of purified bottled water has been essential for Sun Guoqiang.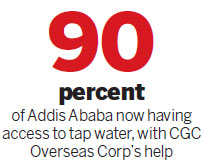 Addis Ababa, where he lives, is said to be the Ethiopian city with the best public amenities and services, but there's still sewage running through the streets of the capital.
For Sun, that means drinking tap water is ill-advised, especially if the water hasn't been boiled.
Sun is determined to tackle the problem at its source. And as head of the largest water supply system operator in the country, he is probably one of the people in the best position to do just that.
Sun, 44, general manager of CGC Overseas Corp, Ethiopia, has been in Africa for 16 years - 14 years in Ethiopia and two in Nigeria. He is from Hangzhou in Zhejiang province, a green city whose credentials are praised in the Chinese saying: "In heaven there is paradise, and on Earth there are Hangzhou and Suzhou."
For Sun, that image of his hometown has slowly dissipated over the years, lost not in the romantic mist that sometimes shrouds Hangzhou, but in the windy, dusty reality of the highland country to which he has devoted much of his career.
CGC Overseas Corp is active in five areas in Ethiopia: water supply systems, road and bridge construction, well drilling, glassmaking and supplying construction equipment.
It is also active in more than 10 African countries, including Angola, Kenya and Nigeria.
The company said that over the past 10 years, it has built 1,400 kilometers of roads, and the company's glass factory is widely regarded as a marker of Ethiopia's progress on the path to industrialization. The factory's most important product lines are 2-millimeter-thick to 8-millimeter-thick sheet glass for windows, and the company said it account for 95 percent of the Ethiopian market.
"We don't sell people cranes when they need milk bottles and diapers," Sun said, stressing the company's attention to its marketing.