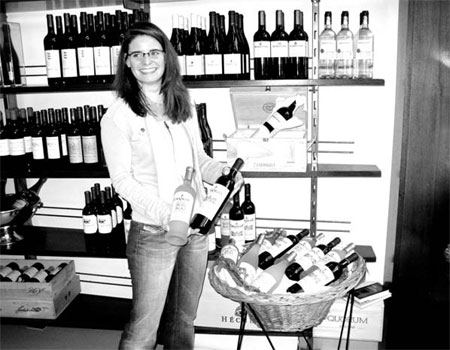 Changyu Jiebaina wine is now on sale at more than 3,000 outlets in Europe. Provided to China Daily
Jiebaina Dry Red Wine, a globally competitive product from China's largest winery Changyu, is grabbing increasing attention in the United Kingdom with its unique oriental flavor and top quality.
In mid-August, Changyu Jiebaina hit shelves of Waitrose, the sixth-largest grocery retailer in the UK, retailing at 9.9 pounds ($16.2).
The wine described as "a spicy, aromatic and juicy red" has since become a hot-seller at the more than 200 Waitrose supermarkets across the country.
"As interest in the Chinese wine industry continues to grow, we scoured the country to find exciting wines and were particularly impressed by Changyu's," said Katie Mollet, a senior purchasing manager at Waitrose.
"It's the first time for us to sell China-made wines," she said. "Obviously, we made the right choice, as more than 400 cases of the wine have been sold over the past week alone."
A supplier of wines and spirits to the British royal family for a decade, Waitrose is also the first UK super-market chain stock wine from China.
"Waitrose is proud to be leading the way for Chinese wine to grow in popularity in Great Britain, and we think our customers also enjoy this voyage of discovery with us," said Mollet.
Laurenz Moser, managing director of TxB International Fine Wines, Changyu's biggest distributor in Europe, said "we always view the UK as one of our important markets due to its rich wine-drinking culture and large demand for imported wines".
"I am glad we have made a good start to show that China-made wine is capable of rivaling the world's best," he said.
Ensured quality
But it is by no means an easy task for Changyu to win over discerning European consumers.
The Europe Union has very strict standards for imported products. Wine shipped to its markets must be first sent to internationally recognized labs, where it is thoroughly checked for 55 safety and quality standards, including heavy metals and pesticide residue.
Distributors and import agencies also face punishment if the product is found to have quality problems, which means Moser has to visit Changyu regularly to help ensure the quality.
Last September, Moser and other distributors from Germany and Belgium made an inspection of Changyu's vineyards and production sites in Yantai, Ningxia, Xinjiang and Shaanxi.
"We were all impressed by Changyu's management of its grape planting areas and efforts in quality control. Actually, Changyu has been doing a great job since our cooperation began in 2005," Moser said.
According to Zhou Hong-jiang, general manager of Changyu, the company has created a comprehensive quality testing system. Before it buys grapes, the company has random samples taken from all the vineyards and sent to its technical center. Only those that meet all the safety standards qualify for wine production.
"We have exported wines to 28 countries and regions since 2005, 14 of them European countries including Germany and France. None of the products failed to meet quality standards," Zhou said.
Besides top quality, Changyu Jiebaina also features pleasant flavor. Wine critic Jancis Robinson gave high marks to the wine at a recent tasting.
"I was intrigued when I tasted a sample of Changyu Jiebaina and found there was not a trace of greenness. It can compete well with French wines," said Robinson.
It was rated as one of the world's top 30 wine brands during the 2008 Salon Inter-national de l'Alimentation, a food and drink expo in France.
It is now on sale in more than 3,000 supermarkets, shops, five-star hotels across Europe and served in the first-class cabins of Germany's Lufthansa Airlines.
wangqian@chinadaily.com.cn
(China Daily 11/20/2012 page16)