Defaults on local govts' debt 'unlikely'
Updated: 2011-08-30 08:58
By Lan Lan (China Daily)
| | | | | | | | | | | |
| --- | --- | --- | --- | --- | --- | --- | --- | --- | --- | --- |
|   | | Comments() | | Print | | Mail | | Large Medium  Small | 分享按钮 | 0 |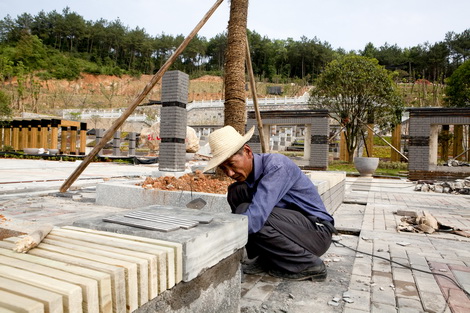 A worker cements a bench at Zhu Shan Park in Loudi, Hunan Province. The National Development and Reform Commission said on Monday that China is unlikely to see a default in local government debt.[Photo/Bloomberg]
Some could face difficulties with repayments in the short term
BEIJING - Local governments are unlikely to default on their debt, although some might face liquidity risks in repaying debts in the short term, economists said.
Xu Lin, head of the fiscal and financial department of the National Development and Reform Commission (NDRC), said local government debts are "controllable".
"There's little chance for a potential government default in China, as governments and regulators at all levels are paying more attention to risk controls concerning local government debts and active measures have been taken in some regions," Xu said in a statement on the NDRC website.
China's local government debts hit 10.7 trillion yuan ($1.7 trillion) at the end of 2010, equivalent to about 27 percent of gross domestic product, according to a report by the National Audit Office (NAO) in late June.
The total debts of the central and local governments are less than 50 percent of GDP, far below the general debt levels of European countries and the United States, Xu said.
Although the risks of local government debt are under control, there are still short-term regional risks, said Ba Shusong, a senior economist at the State Council's Development Research Center.
About 24 percent of the local debts are due in 2011 and about 17 percent are due in 2012, according to the NAO report.
"The concentrated payments will increase local governments' exposure and some may face tight cash flows and liquidity risks," said Ba.
Local government debts that fall due in 2011 account for about 43 percent of the estimated 6 trillion yuan in local government fiscal revenues, said Lu Zhengwei, chief economist with Industrial Bank Co Ltd.
"Without strategic planning, some local governments might face bankruptcy in 2011, though China has yet to release regulations on local government bankruptcy," Lu said.
However, soaring local fiscal revenues, which double every three to four years, will continue to ease local governments' pressure, assuming that new debt can be effectively controlled, Lu said.
Apart from fiscal revenue, the Ministry of Finance said in July that local governments have sufficient resources, such as fixed assets, land and natural resources, as buffers.
"Even without considering land transfers, companies owned by local governments had about 18 trillion yuan in assets at the end of 2007, allowing them to pay off the local debt by transferring these assets," Lu said.
The majority of Chinese local governments have the ability to repay their debt, said Zhao Xijun, a finance professor at Renmin University of China.
Regulators should adopt more measures to push those that don't have firm intentions to repay, said Zhao.
"It's possible that some regions lack the cash flow to repay their debt, but as China's local government finance is not independent, the central government can make use of the nation's financial resources to help them," said Zhao.
As long as the country's economic growth and the government's fiscal revenues remain steady, the debt problem will not evolve into a crisis, he said.
Bank loans are the major source of local debts, accounting for about 79 percent, according to the NAO.
China will continue to increase the issue of urban construction investment bonds, but new bonds won't be permitted if total local government debts account for 100 percent of revenues, Xu said.
Xu also said China will step up its risk-management system for local government debts.