Tailoring goods to the market
Updated: 2011-08-30 09:00
By Yang Ning (China Daily)
| | | | | | | | | | | |
| --- | --- | --- | --- | --- | --- | --- | --- | --- | --- | --- |
|   | | Comments() | | Print | | Mail | | Large Medium  Small | 分享按钮 | 0 |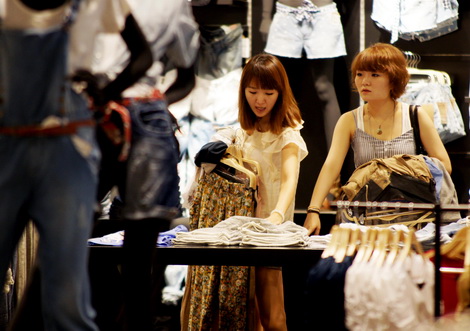 Two women carrying an armload of clothes look for more to buy in a garment store in Zhengzhou, the capital of Central China's Henan province.[Photo/China Daily] 
Wardrobes grow with economy, but to thrive, apparel makers must observe social trends
BEIJING - China's remarkable economic achievements of the past decade are transforming people's daily lives.
Today, most Chinese have more social occasions and entertainment options than they did 10 or more years ago. Aside from work or study, they enjoy eating out, shopping, traveling, going to bars and karaoke, dance and fitness clubs, to name just a few of the possibilities.
Together with this new lifestyle, they have started experimenting with clothing to suit each occasion, and through this, the demand is growing for a bigger wardrobe.
China's apparel industry has tripled in market size over the past decade, reaching 400 billion yuan ($63 billion) by the end of 2010, and it is expected to grow threefold again over the next decade to hit 1.3 trillion yuan by 2020, according to a report recently released by the Boston Consulting Group (BCG).
However, per capita apparel spending among urban Chinese consumers remains low - just 1,150 yuan a year, compared with the equivalent of 5,770 yuan in the United States and 5,020 yuan in the United Kingdom, according to the report.
"China has the potential to account for about 30 percent of the global apparel market's growth over the next five year because per capita consumer spending is still in the early part of the penetration curve compared with that in mature markets," said Vincent Lui, Hong Kong-based partner and managing director of BCG.
"It is not enough, however, for companies to assume that they can sit back and be buoyed by the coming wave of growth," said Lui.
The report identifies three key emerging trends - more spending on apparel by younger generations, by women, and more heavy spenders in lower-tier cities - that will help companies to adapt their strategies in response to new consumer demands over the coming decade.
"Consumers in their late 20s to early 30s today outspent the national average by 18 percent, owing to structural changes in lifestyle: They know more brands, own more brands, trade up more often and have aspirations to upgrade in the future," said Zhou Yunling, project leader at BCG's Beijing office.
Zhang Zhifeng, chairman of NE Tiger Fashion Co, a Chinese high-end dress manufacturer, told China Daily that the younger generation is among their buyers, although their target consumers are the wealthy.
"We used to call young consumers the 'dream group' because our dress is more like a dream for them. They need to save money to buy a single article, which is usually priced at 20,000 yuan," Zhang said.
"However, the younger generation is now becoming important to our business," he said.
Currently, spending on women's apparel constitutes 54 percent of the total spending on fashion among adult urban consumers - menswear spending represents 46 percent.
Over the next 10 years, as women's incomes rise, it is expected that their apparel spending will pick up significantly, compared with that of men who earn the same amount, according to the report.
"We are seeing the trend that women will continue to outspend men on apparel in China. The spending ratio between genders will likely converge with that of the United States, the United Kingdom and Japan in the future, where women spend 1.5 to 2.5 times what men do on apparel," Zhou said.
Also, the report said that a much larger proportion of people who spend heavily on apparel will live in the country's lower-tier cities in the coming decade.
"To reach 80 percent of the market potential for mid- and high-priced apparel, companies need to increase urban coverage from 462 cities in 2010 to 568 cities by 2020," Zhou said.
There is no dominant channel for the apparel industry in China, so companies should consider walking on "multiple legs", such as flagship stores, street boutiques, department store counters, franchising and online, said Todd Guild, director of consumer sector for Asia at the McKinsey & Co consulting firm, in a report.
Of these channels, online shopping will play an increasingly important role in the apparel market. In fact, apparel is already the top e-commerce category among Chinese consumers, with 71 percent of e-shoppers making apparel purchases, according to the BCG report.
"In the following five years, nearly 40 million new e-shoppers will emerge a year, and the total e-shopper population in China is expected increase from roughly 145 million in 2010 to reach 329 million by 2015," said Lui at BCG.
Jiang Hengjie, executive vice-president of the China National Garment Association, said that the most effective strategy for apparel companies at present is to promote the integration of traditional and online channel.
"Companies that are able to build a truly multi-channel model will have real competitive advantages over their peers," he said.
Wang Wen contributed to this story.