E-commerce is going mobile
Updated: 2011-08-29 09:52
By Tang Zhihao (China Daily)
| | | | | | | | | | | |
| --- | --- | --- | --- | --- | --- | --- | --- | --- | --- | --- |
|   | | Comments() | | Print | | Mail | | Large Medium  Small | 分享按钮 | 0 |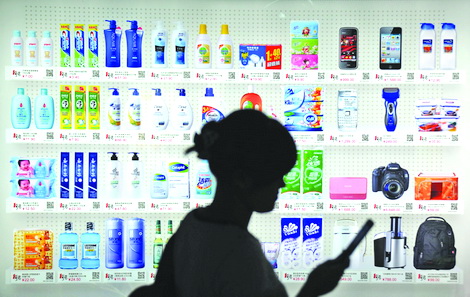 A woman uses mobile phone in front of a"shopping wall" in a subway station in Shanghai. The "shopping wall" is a virtual supermarket with "display shelves" like those in brick-and-mortar stores. Consumers can buy products by scanning a code on the shopping wall through a transaction terminal installed on mobile phones.[Photo/China Daily]
Retailers develop platforms for consumers to do their shopping via smartphone
SHANGHAI - Chinese retailers are paying close attention to the mobile commerce sector in the country's large cities, and experts said the development of mobile commerce will depend on the development of Internet environment in China.
Figures from Analysys International, a consulting firm specialized in Internet market research in China, suggested that sales revenue generated through purchases made by mobile phone reached 1.67 billion yuan ($261 million) in the second quarter of 2011, an increase from 880 million yuan in the same period of 2010. Twenty-seven percent of the 1.67 billion yuan was generated through transaction terminals installed on mobile phones, and the remaining 73 percent came through web transactions on mobile phones.
Mindful of the tremendous business opportunities in this market sector, retailers are investing heavily to promote mobile commerce in large cities such as Beijing and Shanghai. Yihaodian, one of the locally developed online shopping stores, has introduced "shopping walls" in about 70 subway stations in Shanghai and placed more than 500 advertisement boards in public areas in Beijing since late July.
The shopping walls have been described as a virtual supermarket with "display shelves" like those in brick-and-mortar stores. Consumers can buy the products by scanning a code on the shopping wall through a transaction terminal installed on mobile phones. Goods are delivered within 24 hours of the order.
"As the purchasing model is new to consumers, many people are curious to know how the transaction works and want to give it a try," said Yu Lili, director of the wireless application department at Yihaodian. "It's a business model that can use people's waiting time in subways and public areas".
Yu did not disclose the transaction volume conducted through the "shopping wall" in the past few weeks, and the virtual supermarket was withdrawn from all public areas in Shanghai on Aug 25. She said the shopping wall is an advertisement to give people some idea about this new shopping model.
"We have made plans to have permanent shopping walls installed in large cities in the next few years, and we may consider having the virtual supermarkets installed in local communities," said Yu, without revealing a timeline.
Yihaodian is not the only company in China that's targeting mobile commerce. Online retail giants including Taobao.com, 360buy.com and many others have developed mobile terminals for smartphones with iPhone, Android and Symbian systems. Figures from Analysys International suggested download volume for the 360buy mobile terminal reached 1 million in the first quarter of this year. Media reported that the daily revenue generated by 360buy through cell phones reached 2 million yuan in June.
Chen Shousong, an analyst with Analysys International pointed out in his report that development of the mobile terminal will be the main force behind the development of mobile commerce.
Though mobile commerce is becoming accepted in China, experts said it would not pose a big challenge to traditional brick-and-mortar stores in the short term.
"It can only be a supplement to the traditional distribution channel in the short term because businesses need to develop mobile terminals. It will take time," said Chen from Analysys International.
Meanwhile, not every consumer likes to shop without visiting actual stores.
"I enjoy the selection process in supermarkets, and I won't feel that comfortable buying products without being physically close to them," said Li Dong, a white-collar worker in Shanghai.
Though the idea of mobile commerce has been widely introduced in China, industry analysts said its development may hit a bottleneck because the Web environment is not as good as in developed countries and the use of smartphones is not as widespread.
According to data from Analysys International, 16.8 million smartphones were sold in the second quarter of this year, up from 13.5 million units a year ago.
"The technology is sufficient to support the development of mobile commerce. The number of smartphone users is increasing, but it is not as high as it is in developed countries, so it will take time for the business model to develop," added Yu.