Providing more food for thought
Updated: 2011-08-29 09:42
By Ding Qingfen (China Daily)
| | | | | | | | | | | |
| --- | --- | --- | --- | --- | --- | --- | --- | --- | --- | --- |
|   | | Comments() | | Print | | Mail | | Large Medium  Small | 分享按钮 | 0 |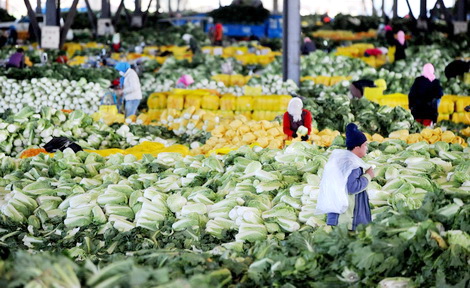 Chinese cabbage ready for shipping to South Korea at a logistics center in Shenyang, Liaoning province. China has become the fifth-largest global exporter of agro-goods.[Photo/China Daily]
China's agricultural sector is preparing to supply markets across the globe
WEIHAI, Shandong - When he worked from dawn to dusk fishing in the sea off Weihai in Shandong province, more than three decades ago, Tang Jude never thought of turning his trade into a business that could reach people outside the East China coastal city, let alone outside the country.
The 20-year-old fisherman of those faraway days is now the executive vice-president of Homey Group Co Ltd, a top 10 Chinese seafood exporter, with a sales network covering a number of developed nations including Japan, South Korea, the United States and the European Union (EU) trading bloc.
In 1978, Tang and 200 fellow fishermen established the Qiujia Fishing Company, the predecessor of Homey Group.
"It was a small business. We fished everyday and sold to local people, but business was very good," Tang said.
It was around 1990 that Tang's company began to sell overseas, but the volume was quite small, as it was very difficult to promote sales abroad at that time.
The turning point came in the mid-1990s when a delegation from Japan flew to Weihai and visited the company. The team stayed for a couple of days, researching and sounding out local people, and eventually an agreement to establish a joint venture was signed with TableMark Co, Japan's biggest Japanese food processing company by sales.
Now Homey Group's annual exports are $70 million and 80 percent of its goods go to Japan. The company listed on the Shanghai Stock Exchange in early 2004, with total assets of 3.5 billion yuan ($550 million).
"Quality is the lifeblood for the food business," Tang said.
Homey Group is the epitome of thousands of agricultural goods manufacturers and exporters in China, and their evolution and prosperity have helped the country grow into the fifth-largest global exporter of agro-goods.
The exports are projected to be on the rise and the prospects to be promising, but quality and branding will be key to maintaining robust growth, said government officials and company executives.
China's entry into the World Trade Organization (WTO) in 2001 stimulated the nation's exports of agricultural goods. According to the General Administration of Customs, exports of Chinese agricultural goods surged to $48.88 billion in 2010 from $18.03 billion in 2002, registering an annual growth rate of 13.4 percent.
That growth was mainly buoyed by sales of labor-intensive goods, with the three categories of organic aquatic foods and seafood, garden produce, and livestock and poultry products contributing approximately 70 percent of the nation's agro-exports annually over a period of years.
China has the largest population in the world, but it is limited in terms of arable land, so the nation mainly plants wheat, rice and corn for domestic self-sufficiency, importing large amounts of soybeans, cotton, edible oil and sugar.
Last year, the country became the largest destination for US agricultural goods, with imports totaling $17.5 billion. That figure accounted for 15 percent of US agro-goods exports in 2010.
As the world's major agriculture nation with a huge rural population, China is set to see a surge in food-based exports, according to officials.
"We have reason to believe that China's agro-exports will experience rapid growth and the future will be very positive," said Wang Shouwen, director of the department of foreign trade at the Ministry of Commerce.
China's agro-export growth is gaining momentum. Between January and April, exports rose by 34.4 percent from a year earlier to $18.68 billion, compared with annual growth of 13.4 percent during the past nine years.
Shandong province in East China is the country's biggest region for agricultural exports, contributing one-fourth of the nation's total in 2010.