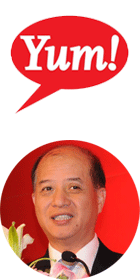 Yum! Brands Inc, owning KFC and Pizza Hut and, is the world's leading restaurant company in terms of system restaurants with nearly 38,000 restaurants in more than 110 countries and territories and more than 1 million associates. The company, based in the US, generated more than $11 billion in revenue in 2010.
Zhu Zongyi, president for the China business department of Yum! Brands Inc. [Photo/Xinhua] 

A Sina micro-blogger on July 28 accused a Guangzhou KFC restaurant of using soymilk powder or concentrate as the basis of soymilk drinks in China rather than using fresh beans.

KFC later stated on its website that the soymilk drinks are made from soymilk powder. But its television

advertisement says the soy milk is "made in the ancient way" and "tastes nice and pure".

In April, a reporter found samples of a "family barrel" paper container and a Coca-Cola cup from KFC fail to meet standards in a primary tests. [Details]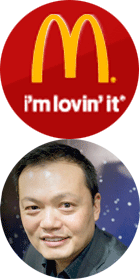 McDonald's, founded in 1948 in the US, is the leading global foodservice retailer with more than 33,000 local restaurants serving more than 64 million people in 118 countries. 
Kenneth Chan, CEO of McDonald's (China) Limited. [Photo/CFP]

On Aug 1, a photo on a social networking website showed that burger buns, some in ripped wrappings, piled in the sun outside a McDonald's restaurant in Beijing.
McDonald's later announced that it had punished the restaurant and that the buns would not be used.
In June, following a CNN report that claimed US McDonald's chicken nuggets contain traces of two "harmful" chemicals, McDonald's China division admitted that its McNuggets also contained the additives, but assured its use of the additives is "safe and harmless" to customers' health. [Details]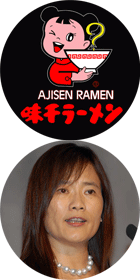 Ajisen (China) Holdings Ltd is the sole franchisee of Japan's Ajisen-branded restaurant chain on China's mainland and in Hong Kong. The company now has 585 stores across the country and was listed on the Hong Kong Stock Exchange in March 2007. 
Pan Wei, president of Ajisen (China) Holdings Ltd. [Photo/CFP]
In July, media reports in July suggested Ajisen Ramen uses cheap powders and other instant seasoning for its noodle soup, instead of boiling pig bones for hours as its advertisements suggest.
The company said that the concentrate is made from the broth of pork bones, then shipped to restaurants and combined with water and spices.
And its test sample used to obtain a comment that 'four times the calcium content of milk and 10 times that of meat" was found made from the concentrate, rather than the diluted soup. [Details]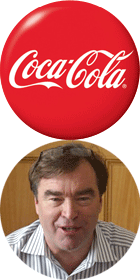 Coca-Cola Co, the world's largest soft-drink maker, offers a portfolio of more than 3,500 products in more than 200 countries.
Doug Jackson, president of Coca-Cola (China) Beverages Ltd. [Photo/CFP]

In July, Coca-Cola products that tested positive for a banned preservative in Taiwan have been recalled, and the Coca-Cola Co said its products on the Chinese mainland are completely safe to drink.
A batch of the syrup used to make free-flowing Coca-Cola Zero has tested positive for methyl p-hydroxybenzoate, a kind of antiseptic, which cannot be added to fizzy drinks in Taiwan, media reported in July. [Details]


International Dairy Queen Inc, a US-based ice cream chain, provides treats and food since 1940, and it is a wholly-owned subsidiary of Berkshire-Hathaway Inc.
Dairy Queen (DQ) admitted the raw mix they use to make ice cream is produced and provided by Beijing-based Baxi, a Chinese dairy company established in 1994.
DQ's so-called fresh jam and imported jam may also come from a domestic provider in Tianjin. [Details]

Nestle, the world's largest food company, provides consumers with a wide range of food and beverage categories.
In April, an authoritative toxic test on baby food conducted by researchers in Sweden found some foods used to wean infants off milk contained "alarming" levels of toxic contaminants, including arsenic, lead and cadmium.
Nestle China said its products are "absolutely safe for consumption", and Nestle baby foods produced and sold in China are in full compliance with China's regulations and standards. [Details]

China has vowed to resolve the country's food safety problems through stricter enforcement of laws and regulations, according to an official statement in June.
Chinese Vice-Premier Li Keqiang has demanded the comprehensive enforcement of the country's food safety laws, urging checks to be tightened against unsafe food products.
China should enhance efforts to ensure food safety, which is crucial for protecting human lives and improving people's living standards, said Li when addressing a meeting on food safety on Feb 18. [Details]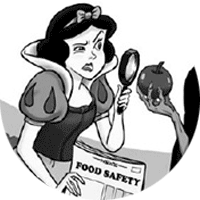 It should be said that there are enough laws, rules and regulations on food safety, and the key is the implementation.
What we need is precaution and prevention, for which strict routine supervision is required.
That makes supervisors' role very important. Perhaps attaching food safety issues to officials' political achievements would help improve the situation. [Details]

They know full well they are not likely to be caught; and even if they are caught at some stage, the profits they have made would be enough to pay the fines many times over." -- @Two-Pronged Fight
It is dishonest to use ambiguous words to confuse consumers. I assume that they dare not deceive customers in the US and Japan. The Chinese worship of foreign goods gives the fast-food chains a chance to deceive the Chinese. -- @Liyongtao 2000 [Details]