A new environment for fight against pollution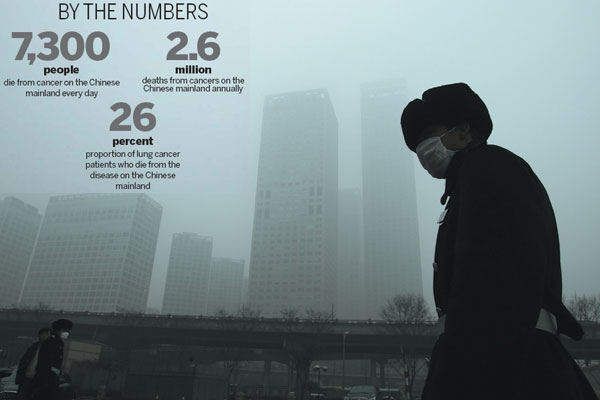 Beijing has been hit by severe smog and haze since early this year, prompting fears about the high levels of PM2.5. [Photo by Wang Jing / China Daily]
Air quality becomes a hot topic amid threat of illness, report Yang Wanli and Qiu Quanlin.
Mei Baojiu, a Peking Opera singer, has displayed his passion for protecting traditional Chinese art forms during the past three years as a member of the Chinese People's Political Consultative Conference.
In 2010, he railed against modern interpretations of Peking Opera that mixed a number of different styles and "destroyed" the beauty of the traditional opera. In 2011, he encouraged theaters to raise the number of performances, and last year he suggested that "opera cartoons" should be made to encourage a greater understanding of the art form among the younger generation.
However, at this year's session of the CPPCC, Mei concentrated on a subject far removed from his field of expertise - air pollution. He said that poor air quality has damaged his voice. "My voice no longer sounds perfectly smooth and clear," he said.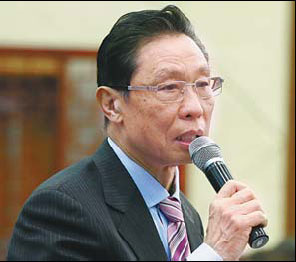 Zhong Nanshan, a member of the Chinese Academy of Engineering, has warned that PM2.5 can cause tumors and lung cancer. [Photo by Wang Xin / for China Daily]
However, for tens of millions of people across China who also suffer from high levels of PM2.5 - particulate matter smaller than 2.5 micrometers in diameter that can penetrate the lungs and harm the respiratory, cardiovascular, cerebrovascular and nervous systems - air pollution is not just about sore throats, but a matter of life or death. The World Health Organization considers a PM2.5 level of 25 micrograms per cubic meter to be a "safe" daily dose, but Beijing recorded levels of more than 900 on some days in January.
Zhong Nanshan, a deputy to the National People's Congress and a member of the Chinese Academy of Engineering, said recently that PM2.5 can cause tumors and lung cancer and therefore the rising levels pose an enormous risk to public health.
Citing research conducted by the American Association of Retired Persons over a period of 26 years, Zhong said haze and smog affect the nervous and respiratory systems and internal organs. The research indicated that every time the level of PM2.5 rises by 10 micrograms per cubic meter, the death rate from lung cancer rises by 15 to 27. Meanwhile, the number of viruses also increased by 20 percent when levels of PM2.5 increase by 10 mgs per cu m.
Zhong also quoted a study of 50,000 patients in Hong Kong that found a fatality rate of 11 percent among respiratory patients if the level of PM2.5 rose from 20 to 200 mgs per cu m.
The hot topic
Air pollution was one of the hottest topics at this year's meetings of the NPC and CPPCC. At least 20 deputies and members were reported to have made pointed speeches about the issue and criticism of air pollution is not groundless, said Zhong, because poor air quality is an important factor in both the incidence and cause of respiratory diseases.
When the concentration of PM2.5 rises by 10 mgs per cu m, hospitalizations may rise by as much as 3.1 percent, he said, citing research he helped to conduct in Hong Kong. Meanwhile, when the concentration of PM2.5 rises from 25 mgs per cu m to 200, the average daily fatality rate may soar to 11 percent.
Zhi Xiuyi, a leading expert in lung cancer treatment and also vice-president of the Chinese Association of Thoracic Surgeons, said medical authorities used to focus on tobacco control as a primary means of preventing lung cancer. "But in fact, air pollution is no less harmful than smoking and our research team released a report earlier this year that indicated that the cancer rate in Beijing is closely related to industrialization," he said.
The report, conducted by the Beijing Institute of Cancer Research, shows that the number of cancer patients in the Chinese capital has increased markedly during the past decade. Chaoyang district, the city's main area of industrialization, has the highest incidence of cancer, almost double that of Yanqing, an area on the outskirts of the city. Approximately four in every 1,000 Chaoyang residents have some form of the disease, with lung cancer at the top of the list.
"The risk of contracting cancer largely depends on the length of exposure and the concentration of noxious gases," said Zhi. In response to speculation that seven years' exposure to poor quality air will almost inevitably result in cancer, Zhi said the time scale was garnered from research overseas that suggested the rate of incidence generally peaked in the seventh year of exposure to a heavily polluted environment.
"But if one breathed in air with a PM2.5 level of between 200 to 300 five days a week, it might only take five years for the potential for cancer to rise to a dangerous level," he said.
Related Stories: