Premier Li Keqiang vowed on Sunday to use an "iron fist" to tackle China's pollution and food safety problems.
"We will upgrade the country's economic development model to enable people to enjoy clean air, and safe drinking water and food," he said at a news conference after the conclusion of the annual legislative session.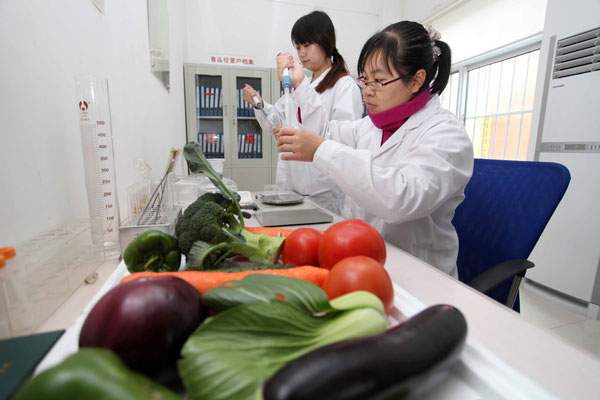 Food inspectors check the quality of produce from a market in Weifang, Shandong province, in December. Premier Li Keqiang vowed on Sunday the government will take measures to ensure safe drinking water and food. Zhang Chi / for China Daily
He was "upset" by the heavy smog that has blanketed Beijing and much of eastern China at times in recent months, he said.
"This government will show even greater resolve and take more vigorous efforts to clean up such pollution," he said.
The 57-year-old premier promised the government will set deadlines to tackle pollution and be tough with polluters.

"We need to face the situation and punish offenders with no mercy and enforce the law with an iron fist," he said.
Levels of PM2.5 — particulate matter of 2.5 microns or smaller — reached severe levels of between 270 and 290 micrograms per cubic meter on Sunday in Beijing, according to the Beijing Municipal Environmental Monitoring Center.
"We shouldn't pursue economic growth at the expense of the environment. Such growth won't satisfy the people," Li said.
The premier added that a series of measures will be implemented to phase out old factories and create a new development model.
Sung Ming, Asia-Pacific representative for Clean Air Task Force, a non-governmental environmental consulting firm in Boston, Massachusetts, said on Sunday that Li's remarks showed the Chinese government's determination to tackle pollution.
"Similar pollution problems also happened during the development process in other countries, such as in the US and European countries," he said.
"China should strengthen its environmental law enforcement, especially targeting polluting operations by large enterprises."
Sung said he would work to introduce advanced technology from overseas that could help China control air and water pollution levels.
Li defined food safety as an issue "directly related to people's life quality and health".
Fake and substandard food — a longstanding problem that has seen many scandals in recent years, such as toxic milk powder — will be dealt with severely, he said.
"The government will take strong efforts to punish the heartless producers of substandard and fake food, and they will pay a high price," he added.
Li also urged more transparent government and more public supervision to address environmental issues
Zhou from Shanghai said: "I could sense passion and sincerity among government authorities in tackling pollution and food safety problems, but now I am looking forward to more specifics on what the government plans to do.
"I now insist on buying food products from overseas for my child. Maybe I will change my mind when government authorities show some progress in cracking down on such problems in the future."
jinzhu@chinadaily.com.cn