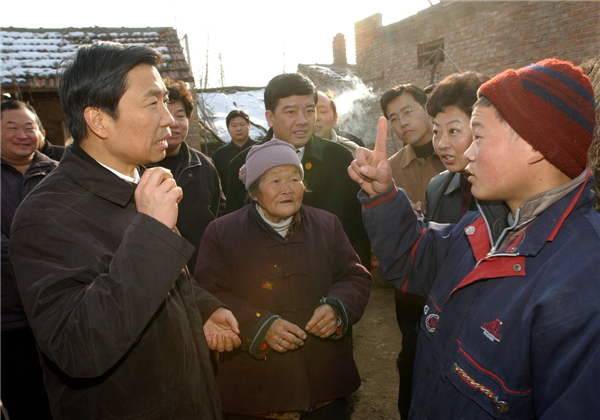 Li Yuanchao communicates with a hearing-disabled boy when he visits a village in Shaji township of Suining county, in Jiangsu province on Jan 7, 2005. [Photo/Xinhua]
BEIJING - "As an official, one should show reverence for history, people and life and let what he has done lives up to the expectations of the people," Li Yuanchao once said to officials.
Li, a member of the Political Bureau of the Central Committee of the Communist Party of China (CPC), was elected Vice-President of the People's Republic of China at the first session of the 12th National People's Congress (NPC) on Thursday.
"Supervision of power by the people is most effective, thorough and meticulous. The system of democratic, legal and discipline supervision, as well as supervision through public opinion, should be improved so as to lay a foundation for a binding force for the realization of honest officials, clean government and political integrity," Li said at a panel discussion for a government work report delivered at the 12th NPC's first session.
Born in East China's Jiangsu province, Li was brought up in a mining area. In 1968, 18-year-old Li was sent from Shanghai to a state farm in Jiangsu's Dafeng county, just like many other young people who participated in former Chairman Mao Zedong's campaign to send urban youth to rural areas to learn from their rural counterparts. After four years, Li had learned how to transplant rice seedlings, herd cows, cut reeds and dig river mud.
"Manual labor taught us how to be a person, a person that society needs. Through labor, we got to know the people and established deep affection for laborers," Li recalled.
In 1977, when college entrance exams were reinstated after a decade of suspension due to the Cultural Revolution, Li was admitted to the department of mathematics at Shanghai's Fudan University. He simply wanted to continue his teaching career after graduation at that time, as he had been a teacher before.
However, his wish did not come true, as he was chosen to take up a post in his department's Communist Youth League (CYL) chapter. Li's lot with the CYL continued as he became secretary of his department's CYL general branch, then deputy secretary of Fudan University's CYL Committee, then deputy secretary and secretary of the CYL Shanghai Municipal Committee.
In 1983, Li became a member of the Secretariat of the CYL Central Committee.
After 1990, Li worked in the international Communication Group of the CPC Central Committee, the State Council Information Office, the Ministry of Culture and other state departments.
In 2000, Li became deputy secretary of the CPC Jiangsu Provincial Committee. The following year, he held a concurrent post as secretary of the CPC Nanjing Municipal Committee. Nanjing is Jiangsu's provincial capital.
Li became secretary of the CPC Jiangsu Provincial Committee at the end of 2002.
As the CPC Central Committee required Jiangsu to take the lead in comprehensively building a moderately prosperous society and realizing modernization, Li conducted a deep investigation in Kunshan county of Suzhou and other localities in Jiangsu, as well as formulated the country's first provincial index system for comprehensively achieving a moderately prosperous society.