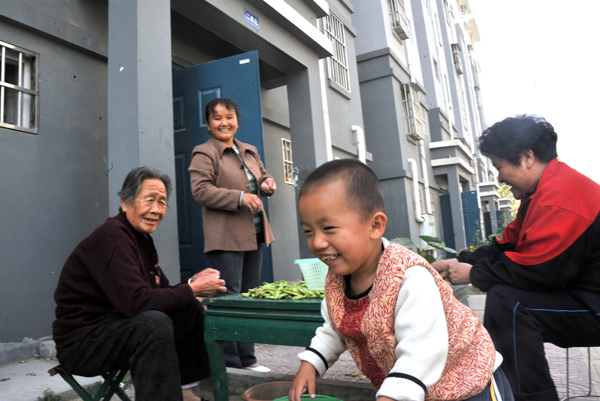 Residents of a former shantytown that was redeveloped enjoy a light moment in Zaozhuang, Shandong province, in October. [Photo/Xinhua]
Premier Li Keqiang said on Sunday that China will continue to urbanize but would avoid creating sprawling cities with shantytowns.
In response to concerns that the urbanization process might deprive rural residents of their land and create an "urban poor" he stressed that migration to the cities should be by free choice and beneficial to migrant workers.
During his term in office, the government will redevelop more than 10 million shanty dwellings, he added.
In the past, the new premier has reiterated on several occasions that urbanization has huge potential to boost China's domestic consumption if the country's 260 million migrant workers can be turned into real urban residents.
The percentage of people working and living in cities rose from 36.2 percent of the country's population in 2000 to 52.6 percent in 2012. The transition, dubbed the largest urbanization campaign in human history, has provided a constant flow of cheap labor for China's fast industrialization and propped up its export-oriented economy.
The premier hopes the next phase of the urbanization process will help transform the Chinese economy from reliance on investment and exports to domestic consumption.
According to Li, urbanization has the possibility of unleashing enormous consumption and investment demand as well as creating job opportunities.
He steered away from suggesting the next phase of urbanization would be an investment boom, stressing that the benefits of it should go to urban migrants and rural residents.
Li recalled experiences of visits to the countryside, where the "dream" of local people was to live a life similar to their urban counterparts' lives.
"In the past, it was only a dream, but urbanization has opened the door for the dream to come true," he said.
People should be able to make a choice between staying in the countryside or moving to a city, he added.
"In the course of urbanization, those farmers who want to migrate to cities can engage themselves in secondary and tertiary industries, and for those who want to stay in the villages, they can be engaged in farming operations of an appropriate scale. In both ways they can make money and enrich themselves," he said.
"What we stress is a new type of urbanization that puts the people at its heart. For those who want to integrate into urban life, we'll gradually make it possible for them to make it."
But this will be a "long-term and complex" process that requires jobs and infrastructure, he added.
The next phase of urbanization is about building coordinated cities across the country hand-in-hand with agricultural modernization, he said.
"We must ensure that China's farmland remains at or above the red line of 120 million hectares, guarantee grain security and protect the interests of farmers," he said.
Rural land markets need to be overhauled to protect farmers' rights and increase efficiency of land use, and policies for the acquisition of rural land for urban use must be changed to prevent urban sprawl, reduce local government dependency on land-related revenue and address farmers' complaints.
Of the thousands of motions submitted by deputies of the National People's Congress, a large portion concerned urbanization. These motions included reform of the hukou (household registration) system, expanding social security coverage and better management of rural land.
Chai Lineng, a deputy to the NPC and director of the development and reform commission of Ningbo, Zhejiang province, proposed that urbanization plans should highlight the efficiency of land use.
"Many local governments complain that the quota of urban land for construction purposes is in short supply. But it would not be a problem if the land is used efficiently," Chai said.
"Much of the industrial land we gave to enterprises was too cheap. In the future, we should increase the price of industrial land to push efficient use of land," he said.
zhengyangpeng@chinadaily.com.cn