Families suffer amid Tibetan flames of deceit
By Li Huizi, Jiang Weichao and Zhang Chunxiao in Gannan, Gansu | Cnia Daily | Updated: 2013-02-05 08:59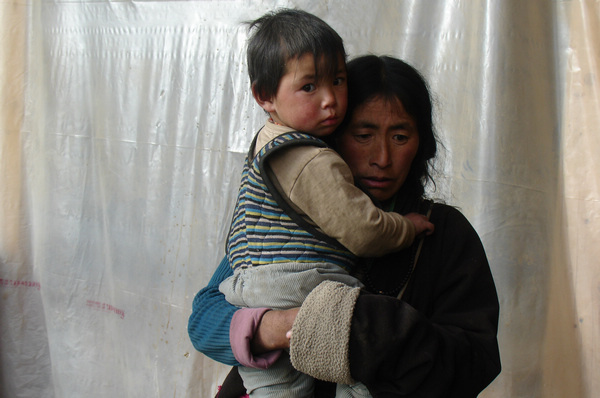 The mother and daughter of a self-immolator on Nov 26, 2012. [PHOTO BY LI XIAOJUN / FOR CHINA DAILY]
Copycat suicides
Chirarab lives in Luchu county, Gannan Tibetan autonomous prefecture, in northwest China's Gansu province, located on the eastern edge of the Qinghai-Tibet Plateau. Gannan borders Tibetan-inhabited areas in Qinghai and Sichuan provinces.
Copycat self-immolations spread in the border area of Qinghai, Sichuan and Gansu provinces last year, mostly involving young people under the age of 30.
Sangdegye, 18, lay in a bed in the burns department of Gansu Provincial Hospital in the provincial capital of Lanzhou after having his leg amputated below the knee last year.
The young man from Gannan's Xiahe county recalled buying three liters of gasoline and a handful of painkillers at a village store on Dec 2, 2012.
He drove a borrowed motorcycle toward the nearby Bora Temple. Dressed in his Tibetan robe, he doused himself in gasoline. After the fire took hold, he ran to the temple. But he forgot to take the painkillers he had bought, and in his immense pain, he took off his fiery clothes and caught the attention of nearby police.
Police investigations show that Sangdegye was introverted and believed in the Dalai Lama clique saying that self-immolations were a sacrifice for the great Tibetan undertaking. One of his friends set himself alight and died on May 27, 2012, a move that shocked Sangdegye.
Sangdegye used to watch Voice of America Tibetan-language programs, and said he adored the self-immolators VOA reported on, because they were like "heroes".
"I was startled when I learned that my son set himself ablaze. Although such things have happened recently, I never thought that it could fall on my family," said Tsering Tokyi, Sangdegye's father.
Sangdegye's mother, Wandetso, rested her head on her knees when she spoke about her son. She quietly recited Buddhist sutras and rubbed her prayer beads, but later the sutras gave way to sobs.
"We don't know how to move on," said Namgyal, Sangdegye's grandfather.
A Tibetan official with the Gannan prefecture government said the Dalai Lama clique often chooses Tibetans facing financial pressures who have received little formal education, young people or those caught in family feuds as the targets to incite self-immolations. Instigators have sometimes told potential self-immolators that the Dalai Lama will "pray for you after your death".
Tibetan Buddhism's traditional belief in the afterlife also plays a role in self-immolations. The monk, who fled Tibet for India after a failed uprising in 1959, once said those who commit self-immolation in this life will be reborn in the afterlife.
"It is sheer destruction of humanity," said the Tibetan official who asked not to be named. "Why did you goad 17 or 18-year-olds to self-immolate? Why didn't you self-immolate?"