Chinese tour bus driver helps transport concert victims
By Chang Jun in San Francisco, Zhang Ruinan and Hong Xiao in New York | China Daily USA | Updated: 2017-10-03 11:04




Henry Liu, a Chinese tour guide, was driving his tour bus near the Las Vegas Strip as he headed back to his hotel after a day's work.
When he got closer to the Strip around 10:30 pm local time, he suddenly heard a burst of popping sounds.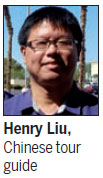 "I thought it was fireworks at first, but then I realized it was the sound of gunshots," said Liu, a Shanghai native. "I saw police cars fly past with sirens blaring, and the police were all fully armed."
Scores of people were screaming, running, crying and trying to seek safety, Liu said.
When he finally got back to the hotel, a man knocked on his car door, said that there were two people who were wounded in the mass shooting and they needed to be rushed to the nearby hospital's emergency room.
Liu said the two people were severely wounded, a woman who was shot twice in the chest and a man who was covered in blood with a gunshot to his arm.
A woman who worked at the hotel's reception desk said she was a local resident and provided directions to Liu who had to run several red lights and drive in the opposite direction, getting them to the hospital in seven minutes.
After Liu got back to the hotel, he helped to transport another man who was slightly wounded in the arm to the hospital.
Liu said there were three families in his tourist group who were traveling during the Chinese National Day holiday, with young children.
"It was a very terrifying and horrible experience for them," he said.
Others in the city stepped up to donate blood for the victims.
"I arrived at United Blood Services at around 7:20 this morning," said Fiona Hu, who lives by the Las Vegas Strip. "And when I got there, people were already lined up, I waited for two hours, but still couldn't get in."
"Many volunteers were passing out water, coffee, and snacks while we were waiting," said Hu. "There were so many people, so I had to wait for a parking spot for a long time."
Hu was told it would be better to arrange an appointment online in advance, but when she got home, she found all donation centers had been booked and did not take reservations anymore.
"I'll check if tomorrow I can get an appointment," Hu said. "There are hundreds of people wounded, so I decided to donate my blood - my blood type is O."
She said she heard the music suddenly stopped last night, and noise from helicopters and police cars from her home.
"I thought it was just pistol gunfire at first, but then I heard from my friend that it was a mass shooting," Hu added.
Julie Scott, a spokesperson for United Blood Services, told ABC News that the wait is reportedly between five and six hours for people who are currently in line at any of the three donation sites in and around Las Vegas.
On social media, people posted pictures from blood-donation sites around Las Vegas and other cities in Nevada and shared locations where people could donate.
"I searched the blood center online, and there are many other sites around the city," said Hu.
The Las Vegas Metropolitan Police Department provided a list of donation centers on Twitter, and it circulated widely, according to The New York Times.
Sun Chao, manager of Golden Eagle Travel USA, a Chinese travel agency headquartered in New York with a branch in Los Angeles, told China Daily that the travel agency had more than 40 Chinese tourists and guides in Las Vegas on Sunday night when the shooting happened.
The tourists were in Aria Resort & Casino, which is 1.5 miles from the Mandalay Bay Resort & Casino, and Westgate Resort & Casino, about five miles from Mandalay. "They are in a safe situation but are scared," Sun said.
The travel agency will provide tour guides to help ease tourists' concerns.
Sun said Mandalay is one of the popular choices with tour groups from India, and the hotel is near where Chinese tourists regularly stay.
The three tour groups were headed on Monday to the Grand Canyon in Arizona and Houston on Oct 2.
Leo Liu, guide of one of three groups, said traffic in the city returned to normal on Monday morning, so he and his group members were able to make the flight to Houston at noon.
Sun said that on Sunday night, after they watched a show at the MGM Grand Las Vegas Hotel & Casino, the tourists went back to their hotels about an hour before the shooting started.
"Those who have booked tours or are planning to have a tour probably would like to cancel them for safety considerations," Liu said.
Contact writers at xiaohong@chinadailyusa.com