Mass shooting reported in Las Vegas concert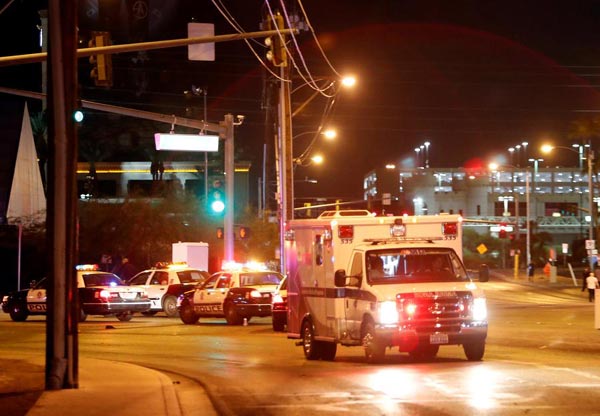 An ambulance leaves the concert venue after a mass shooting at a music festival on the Las Vegas Strip in Las Vegas, Nevada, US October 1, 2017. [Photo/Agencies]
LAS VEGAS, Nevada -A 64-year-old man armed with more than 10 rifles rained down gunfire on a Las Vegas country music festival on Sunday, slaughtering at least 58 people in the largest mass shooting in US history before killing himself.
The barrage from a 32nd-floor window in the Mandalay Bay hotel into a crowd of 22,000 people lasted several minutes, causing panic. Some fleeing fans trampled each other as police scrambled to find the gunman. More than 500 people were injured.
Police identified the gunman as Stephen Paddock, who lived in a retirement community in Mesquite, Nevada, and said they had no sense of what prompted his attack. The Islamic State militant group claimed responsibility for the massacre, but US officials expressed skepticism of that claim.
The preliminary death toll, which officials warned could rise further, eclipsed last year's massacre of 49 people at an Orlando night club by a gunman who pledged allegiance to Islamic State militants.
Shocked concertgoers, some with blood on their clothing, wandered streets, where the flashing lights of the city's gaudy casinos blended with those of emergency vehicles.
Police said they had no information about Paddock's motive, that he had no criminal record and was not believed to be connected to any militant group. Paddock killed himself before police entered the hotel room he was firing from, Clark County Sheriff Joseph Lombardo told reporters.
"We have no idea what his belief system was," Lombardo said.
Federal officials said there was no evidence to link Paddock to international militant groups.
"As this event unfolds, we have determined to this point no connection with an international terrorist group," FBI special agent in charge Aaron Rouse told reporters.
One US official discounted a claim of responsibility that was made by Islamic State. There was reason to believe that Paddock had a history of psychological problems, the official said.
In its claim, Islamic State said the gunman was a recent convert, according to the group's news agency Amaq. Its claim did not include the gunman's name and showed no proof. In the past, the group has also claimed responsibility for attacks without providing evidence.
Lombardo said there were more than 10 rifles in the room where Paddock killed himself. He had checked into the hotel on Thursday.
Police found several more weapons at Paddock's home in Mesquite, about 90 miles (145 km) northeast of Las Vegas, Mesquite police spokesman Quinn Averett told reporters.
The dead included one off-duty police officer, Lombardo said. Two on-duty officers were injured, including one who was in stable condition after surgery and one who sustained minor injuries, Lombardo said.
"He brutally murdered more than 50 people and wounded hundreds more. It was an act of pure evil," US President Donald Trump said in a White House address. He ordered flags lowered to half-staff in a national gesture of mourning and said he would visit Las Vegas on Wednesday.
Leaders from around the world expressed shock and sadness at the news.
'JUST KEPT GOING ON'
Video of the attack showed panicked crowds fleeing as sustained rapid gunfire ripped through the area.
"People were just dropping to the ground. It just kept going on," said Steve Smith, a 45-year-old visitor from Phoenix, Arizona, who had flown in for the concert. He said the gunfire went on for an extended period of time.
"Probably 100 shots at a time," Smith said. "It would sound like it was reloading and then it would go again."
Las Vegas's casinos, nightclubs and shopping draw some 3.5 million visitors from around the world each year and the area was packed with visitors when the shooting broke out shortly after 10 p.m. local time (0400 GMT).
Shares of US casino operators fell in morning trading on Wall Street, with MGM Resorts International, which owns the Mandalay Bay, down 3.5 percent. Melco Resorts & Entertainment Ltd, Wynn Resorts Ltd and Las Vegas Sands Corp were little changed.
Mike McGarry, a financial adviser from Philadelphia, was at the concert when he heard hundreds of shots ring out.
"It was crazy - I laid on top of the kids. They're 20. I'm 53. I lived a good life," McGarry said. The back of his shirt bore footmarks, after people ran over him in the panicked crowd.
The shooting broke out on the final night of the three-day Route 91 Harvest festival, a sold-out event featuring top acts such as Eric Church, Sam Hunt and Jason Aldean.
"Tonight has been beyond horrific," Aldean said in a statement on Instagram. "It hurts my heart that this would happen to anyone."
'WE'RE HORRIFIED'
The suspected shooter's brother, Eric Paddock, said the family was stunned.
"We have no idea. We're horrified. We're bewildered and our condolences go out to the victims," Eric Paddock said in a brief telephone interview, his voice trembling. "We have no idea in the world."
As with previous US mass shootings, the incident sparked anger among advocates for gun control. The Second Amendment of the US Constitution protects the right to bear arms, and gun-rights advocates staunchly defend that provision.
"It's time for Congress to get off its ass and do something," said US Senator Chris Murphy of Connecticut, where 26 young children and educators were killed in an attack on a school in 2012.
"This must stop. It is positively infuriating that my colleagues in Congress are so afraid of the gun industry that they pretend there aren't public policy responses to this epidemic."
The rampage was reminiscent of a mass shooting at a Paris rock concert in November 2015 that killed 89 people, part of a wave of coordinated attacks by Islamist militants in which 130 people were killed.