Montana ranchers seek partnerships to send US beef into Chinese markets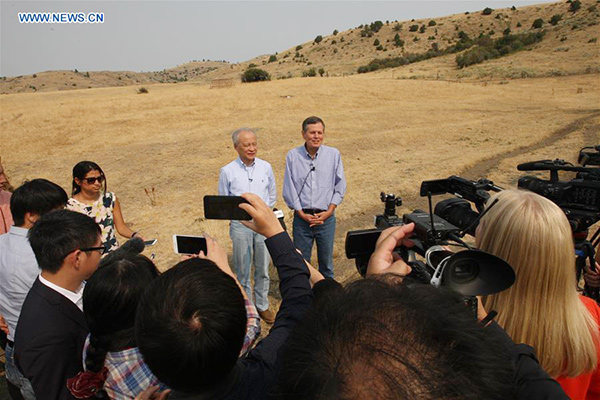 Cui Tiankai (L, center), Chinese Ambassador to the United States, and Steve Daines (R, center), a senator from US state of Montana, answer questions from reporters after a roundtable meeting between a Chinese delegation and Montana farmers and ranchers hosted by Steve Daines at the Morgan Ranch House, near downtown Bozeman, Montana, the United States, on Sept 8, 2017. [Photo/Xinhua]
Citing Japanese successful marketing of Kobe beef in China, Zhu Hong, minister-counsellor for economic and commercial affairs at China's embassy, said Montana also has to promote its beef to Chinese consumers and it will take a long process.
"You have to let more and more people know about the American high-quality beef, Montana high-quality beef," Zhu said, believing American beef will have a huge Chinese market share in the next five years.
Wacker said he would like to have a roadshow in China to market its beef and have a small party inviting people to taste different kinds of beef products. He believed Chinese consumers would love the delicious flavor of the all-natural beef after taking the first bite.
"Nothing beats having Montana farmers and ranchers around the table with our Chinese leaders here to talk about real solutions, real action plans," Daines, the senator from Montana, was very pleased with the outcome of the meeting, vowing to seek closer cooperation with China on agricultural trade.
"If we're going to grow our economy in Montana, we need to grow our agricultural community and our economy. China's the second largest beef import market in the world. This is a tremendous opportunity for Montana," he said.
Cui Tiankai, Chinese Ambassador to the United States, was also very glad to visit ordinary folks in Montana, which gave him great confidence about prospects of China-US relations.
"People in Montana are so friendly, and they have such an aspiration for increasing their contact with the Chinese people to sell more products from Montana to China, welcome more Chinese tourists and students to Montana," the ambassador said, adding this kind of mutual understanding and friendship are the real foundation of the state-to-state relationship between the two countries.
"With this kind of foundation, I'm quite confident that we will be able to solve any problem between us and there should be no trade war, there should be no war whatsoever between us," he said.