In costume, Londoners flip pancakes in annual race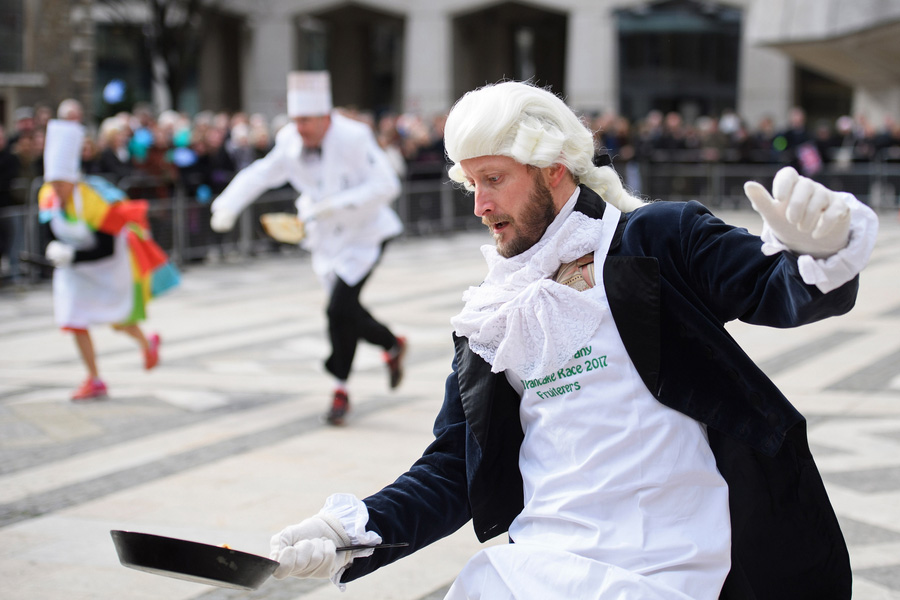 Competitors take part in the annual Inter-Livery Pancake Race at The Guildhall on February 28, 2017 in London, England. [Photo/VCG]
LONDON — Dressed as chefs, superheroes and villains, Londoners in colourful costumes sped down a street flipping pancakes in an annual race to mark Shrove Tuesday and raise money for charity.
The Great Spitalfields Pancake Race saw young and old competitors take part to raise money for London's Air Ambulance.
Cheered on by crowds, teams of runners dressed as Batman, Darth Vader and yellow "Minions" movie characters raced up and down an east London street on the traditional Pancake Day or Shrove Tuesday, which precedes Ash Wednesday, the first day of the season of Lent.
"The key is to toss it and then start running. Don't run while you toss because otherwise it might get left behind," said Alex Lopez, whose team triumphed in Tuesday's race. "I had some pancakes, just to get in the mood, get energy."
Various pancake-themed events are traditionally held across Britain on Shrove Tuesday. Meanwhile in the English town of Ashbourne, players competed in the annual Shrovetide football match in a game said to date from the 17th century, in which the Up'ards and the Down'ards teams aim to "goal" a ball by hitting it three times on stone plinths placed three miles apart.
Reuters