Uncertainty reigns in China-US relations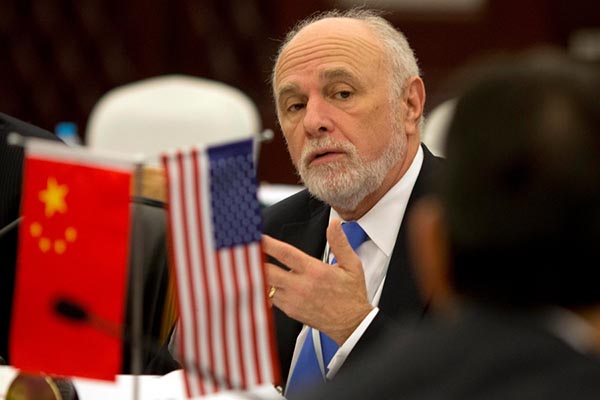 William Baer, US Principal Deputy Associate Attorney General, speaks during the first China-US judicial dialogue held at the Rui'an hotel in Beijing, China, Wednesday, August 3, 2016. [Photo/VCG]
Trade war
Since announcing his presidential campaign on June 16, 2015, Trump has blamed China, Mexico and other countries for US trade deficits and loss of manufacturing jobs. He threatened to impose punitive tariffs on imports from China.
Though he has not mentioned the 45 percent tariff for a long while, he continued to say that the US is disadvantaged by China in trade, including blaming then-president Bill Clinton for allowing China to join the World Trade Organization (WTO).
Trump's pick of Peter Navarro, a long-time China hawk, as head of his new National Trade Council, has increased concern about more trade friction. Navarro wrote several books on China, including Death by China, in which he blames US economic woes on China.
On Wednesday, Trump's nominee for Commerce secretary, Wilbur Ross, a billionaire who has done business in China, called China "the most protectionist country" in his Senate confirmation hearing.
China has struck back. Officials and scholars argue that China is "invulnerable" to trade war given its centralized government system. Some experts even list major US companies, such as Apple and Boeing, as possible targets of Chinese retaliation. China is the largest overseas market for Boeing. The company expects that China will buy 6,800 new planes worth $1 trillion over the coming two decades.
US agricultural products might also be a target. China replaced Canada in 2011 as the largest market for US agricultural goods.
In Beijing on Thursday, Ministry of Commerce spokesman Sun Jiwen said the Chinese government is willing to join hands and work with the new US administration to continue promoting the healthy development of bilateral commercial relationship that benefits the two peoples.
"Both sides benefit with cooperation, and both are hurt with conflict," Sun told a press briefing.
"I believe China and the US can resolve any disputes through dialogue and negotiation and that the bilateral commercial relationship will not significantly stray from the path of mutual benefit," Sun said.
"I don't think we are going to have a trade war," said Henry Levine, senior adviser at the Albright Stonebridge Group, a Washington-based consulting firm.
Levine described Trump's advisers and cabinet picks as people who for many years have encouraged the US to get tougher with China in economic areas. "Therefore, I think we are likely to see some measures on trade and investment directed at China, measures that frankly would make the government in Beijing somewhat unhappy," said Levine, a former US deputy assistant secretary of Commerce under George W. Bush's administration.
Some measures taken against China might include restricting its acquisition of US-based companies and more anti-dumping and countervailing duty cases on Chinese exports.
The Obama administration has taken complaints about China to the WTO 16 times, including one last week over China's alleged subsidies for aluminum producers.
A tit-for-tat trade war between the two countries is seen as unimaginable to the already fragile global economy. Some US experts warned that a trade war would almost make it impossible for Trump to achieve his major promise to voters in creating US jobs. US trade with China now supports 2.6 million US jobs, according to a joint study by the US-China Business Council and Oxford Economics.
At this week's World Economic Forum held in Davos, Switzerland, Chinese President Xi Jinping was in the spotlight for his support for globalization, open trade and combating climate change, in sharp contrast to the anti-trade message from the incoming Trump administration.
Douglas Paal, vice-president for studies and director of the Asia program at Carnegie Endowment for International Peace, believes raising tariffs against China will be hard due to opposition in Congress. House Speaker Paul Ryan, a Republican, said early this month that "we're not going to be raising tariffs."
But Paal said the Trump administration will be looking for progress with China in market access or intellectual property rights. "Overall, the message will be 'it's not good enough, we need a better situation' in our bilateral relationship," Paal said.
Trump's accusation of China being a currency manipulator has drawn rebuke from Fred Bergsten, an economist at the Washington-based Peterson Institute for International Economics. Bergsten, a sharp critic of China's currency policy years ago, is now saying that "China is no longer manipulating its currency."
Many US economists share that view, saying the Chinese government is actually propping up its currency, known as yuan or RMB, from falling, thereby helping the US economy become more competitive.
"It would thus be factually incorrect, as well as ineffectual, for the new Trump administration to label China a currency manipulator," Bergsten said.