Israel hits back after UN settlements resolution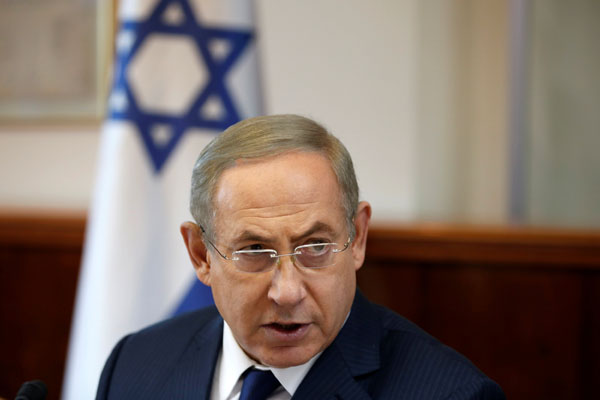 Israeli Prime Minister Benjamin Netanyahu attends the weekly cabinet meeting in Jerusalem November 13, 2016. [Photo/Agencies]
JERUSALEM -- Israel on Sunday summoned the envoys of countries that supported a UN resolution demanding an end to the settlements, while suspending some international diplomatic ties and coordination with the Palestinians.
Speaking at the cabinet's weekly meeting, Netanyahu told the ministers to "minimize" meetings and travels to the states that backed the resolution in the UN Security Council on Friday, and with which Israel has diplomatic relations.
The foreign ministers of the 12 countries will not be accepted for visits in the Prime Minister's Office and Foreign Ministry, he said.
Earlier on Sunday, Netanyahu, who is also acting foreign minister, instructed the foreign office to summon envoys of these states for a reprimand meeting in Jerusalem.
Israeli Defense Minister Avigdor Lieberman instructed the Israeli Coordinator of the Government's Activities in the Territories to cease all meetings and talks with senior Palestinian officials, as another mean of rebuke.
The moves were part of a "diplomatic and economic price" that Netanyahu vowed to exact from countries which supported the historic motion.
The vote, passed by a 14-0 majority, with the United States abstaining, demands Israel to "immediately and completely cease all settlement activities in the occupied Palestinian territory, including East Jerusalem."
It states that the settlements, constructed by Israel on lands it occupied in 1967, has "no legal validity and constitutes a flagrant violation under international law."
The Palestinians hailed the move, with Saeb Erekat, secretary-general of the Palestine Liberation Organization, telling Israel's Walla news site that he hopes the resolution will help reignite the long-stalled peace talks.
Israel reacted furiously, immediately rejecting the motion and slamming it as an "anti-Israeli" move.