Outgoing UN chief reclaims top spot in S Korean presidential polls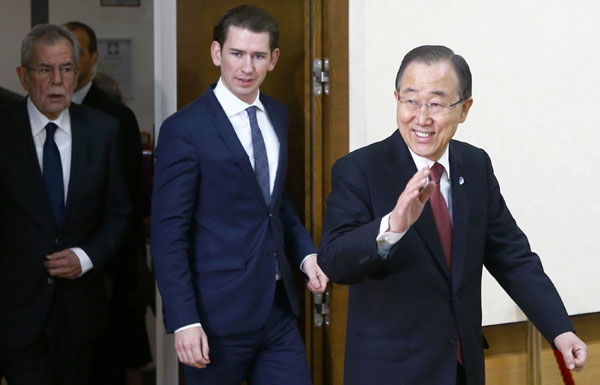 Austria's President-elect Alexander Van der Bellen, Foreign Minister Sebastian Kurz and UN Secretary General Ban Ki-moon (L-R) arrive for a photo opportunity in Vienna, Austria, December 7, 2016. [Photo/Agencies]
SEOUL -- Ban Ki-moon, outgoing UN Secretary General, whose second five-year term is set to end by the end of this year, reclaimed the top spot in recent South Korean presidential polls, local survey showed on Monday.
According to a survey of 2,528 voters nationwide conducted by local pollster Realmeter between Dec 19 and 23, support for Ban as the country's next leader was 23.3 percent, up 2.8 percentage points from the previous week.
His main support base was the North Gyeongsang province, a traditional home turf for impeached President Park Geun-hye and the ruling Saenuri Party, in which Ban garnered 35.8 percent in approval scores, up 9.3 percentage points from a week earlier.
As there is no competitive presidential contender found in the ruling bloc, Ban is seen as the last remaining hope for conservative voters.
Ban has not officially declared his run for president in his homeland, but local media outlets speculated that he had already indicated his candidacy in recent press conference with South Korean journalists in New York.
Since the scandal involving President Park erupted in late October, Ban's approval rating declined in tandem with growing fury over Park which resulted in the presidential impeachment on Dec 9.