Britain to invest blns into research, development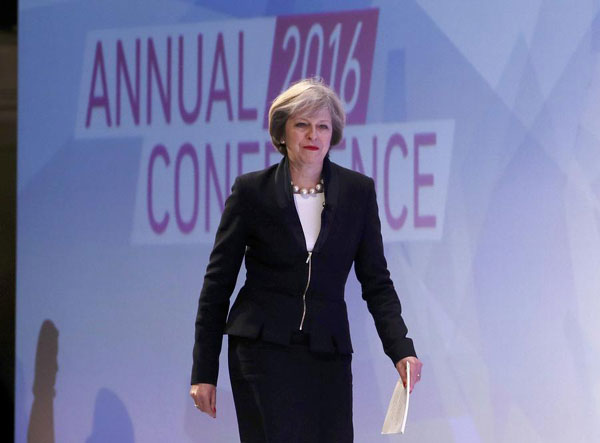 Britain's Prime Minister Theresa May addresses the Confederation of British Industry's (CBI) annual conference in London, November 21, 2016. [Photo/Agencies]
LONDON - Prime Minister Theresa May told the country's business leaders Monday she planned to invest billions of pounds in research and innovation.
In a keynote speech to the annual conference of the Confederation of British Industry (CBI), May set down her ambition to "make Britain the go-to place for innovators and investors."
Her package of measures includes increases in government investment worth two billion pounds a year (2.5 billion US dollars) by 2020. This will ensure British business remains at the cutting edge of scientific and technological discovery, she said.
May is also planning a new Industrial Strategy Challenge Fund to back priority technologies, such as robotics and biotechnology.
There will also be a review of current research and development (R&D) tax incentives to ensure the global competitiveness of Britain as a home for scientists, innovators and tech investors.
In her speech, May made it clear to the world of commerce that post-Brexit Britain remained open for business.
She described her measures as the first steps in a modern, ambitious industrial strategy which will build on Britain's strengths and address long-term structural challenges.
May said her government will "step up to the task and get the economy firing on all cylinders."
Referring to the June 23 referendum vote, May told CBI delegates: "I know leaving the European Union creates uncertainty for business. Some are unsure about the road ahead or what your future operating environment will look like. And there will certainly be challenges, a negotiation like the one on which we are about to embark cannot be done quickly, or without give and take on both sides."
May spoke of opportunities "to get out into the world and do new business with old allies and new partners," adding, "my aim is not simply for the UK to have the lowest corporate tax rate in the G20, but also a tax system that is profoundly pro-innovation."
The prime minister announced measures to turn bright start-ups into successful scale-ups by backing them for the long-term, and also more help for smaller businesses to thrive.
"This amounts to a big and ambitious agenda, but the times we are living through demand nothing less. For change is in the air, and when people demand change it is the job of politicians to respond," May concluded.