Six Chinese tourists airlifted out of quake-hit town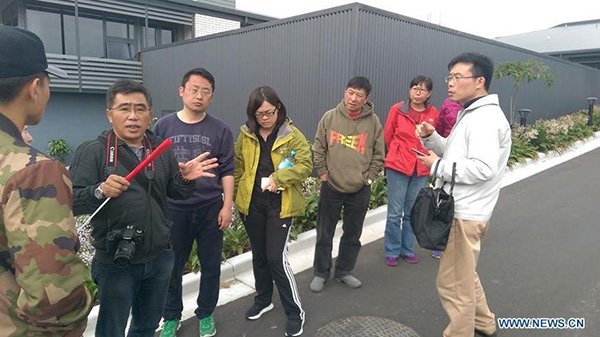 Staff from the Chinese consulate general in Christchurch talk with Chinese tourists trapped in the worst-hit town of Kaikoura, New Zealand, Nov. 14, 2016. [Photo/Xinhua]
A first batch of six Chinese tourists has been airlifted from the worst-hit town of Kaikoura to Christchurch after a deadly quake rocked much of New Zealand early on Monday.
Staff with the Chinese consulate general in Christchurch, the country's second largest city, said that "altogether 21 Chinese tourists, including one slightly injured in the head, have been found trapped in Kaikoura so far, and they are all safe now".
The six evacuees are three pairs of mother and child and the youngest child is five years old. They arrived at Christchurch at around 3 pm, said Consul General Jin Zhijian.
"The injured has received proper medical treatment and is doing well," he said.
A magnitude-7.8 quake hit just after midnight on Monday, leaving two dead.
Some 1,000 tourists were reported stuck in Kaikoura, a popular tourist destination famed for its coastal scenery and whale-watching activities, which is some 100 km away from the epicenter.
The quake-triggered landslides have left the town isolated. Helicopters are now the only means of transportation available for the outside world with the small town.
The Chinese tourists posted their plight on social media and called for help before their smartphones ran off power. With the information, the consulate general staff, who flew to the town soon after the quake with food and other relief goods, found them later.