South Korean president's confidante placed under emergency detention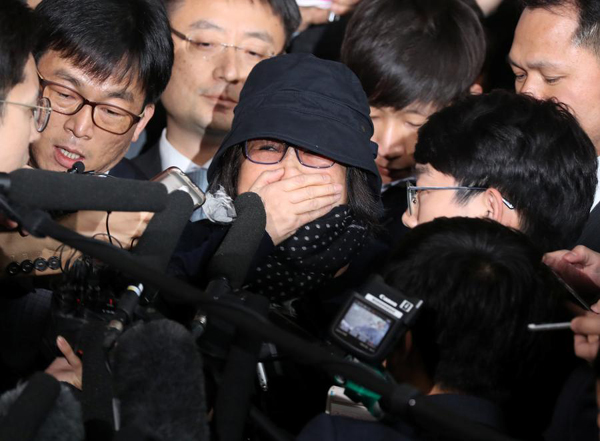 Choi Soon-sil (C), who is involved in a political scandal, reacts as she is surrounded by the media upon her arrival at a prosecutor's office in Seoul, South Korea, October 31, 2016. [Photo/Agencies]
SEOUL - Choi Soon-sil, a longtime confidante of South Korean President Park Geun-hye suspected of having meddled in state affairs, has been placed under an emergency detention after hours of questioning by prosecutors on risks of fleeing and destroying evidence, local media reports showed on Tuesday.
The 60-year-old, who changed her name into Choi Seo-won, was urgently arrested at about 11:57 p.m. on Monday (1457 GMT) after she appeared at 3 p.m. in the Seoul Central District Prosecutors' Office for questioning.
Choi has been transported to a detention center in Seoul, and prosecutors will seek a warrant to formally arrest her within 48 hours.
Under criminal law, the emergency arrest without warrant is allowed when there are reasonable grounds that a suspect committed a crime bringing more than three years in prison.
A prosecution official was quoted as saying there's concern about Choi's destroying evidence as she has denied all of her charges and that there's a flight risk as she fled overseas in the past and has no fixed place to stay.
Prosecutors are also wary of what might happen if she is released as she showed signs of an extremely unstable psychological state, according to the official.