Man charged of killing 'most lethal' American sniper
A man accused of gunning down former US Navy SEAL Chris Kyle, a prominent military sniper, and another man at a Texas shooting range has been arraigned on three counts of murder, Texas officials said on Sunday.
Eddie Ray Routh, 25, is accused of killing Kyle, 38, and 35-year-old Chad Littlefield, Kyle's neighbor, with a semiautomatic pistol on Saturday afternoon at the Rough Creek Lodge, about 50 miles (80 km) southwest of Fort Worth, the Texas Department of Public Safety said.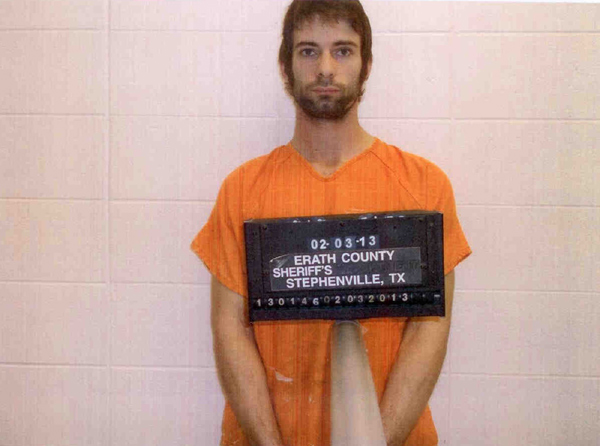 Eddie Ray Routh is pictured in this booking photo provided by the Erath County Sheriff's Office. [Photo/Agencies]
"They were shot at close range," department spokesman Sergeant Lonny Haschel said.
Kyle was considered one of America's deadliest snipers. He killed 160 people during his career as a US Navy SEAL sniper and wrote the book "American Sniper" about his military service from 1999 to 2009.
Routh faces one count of capital murder and two counts of murder, officials said. In Texas, a murder committed in the commission of another felony, such as robbery, can be considered capital murder. A person convicted of capital murder in Texas can be sentenced to death.
Routh, described in local media reports as a former Marine who suffered from post-traumatic stress syndrome (PTSD), was arrested near his Lancaster, Texas, home about 8:30 pm, several hours after the shooting, in Kyle's truck.
"He was taken into custody after a brief pursuit," Haschel said.
According to a posting on a website run by members of the Special Operations Forces, Kyle had been volunteering his time to help Marine Corps veterans suffering from PTSD.
"Part of this process involved taking these veterans to the range," the posting on SOFREP.com said.
Officials said it has not been officially determined whether Routh suffered from PTSD, and they declined to confirm reports he had fought in Iraq.
"We've seen no medical records yet," Erath County Sheriff's Captain Jason Upshaw said.
Authorities declined to discuss details of the relationship between Routh and the victims, but said they knew each other.
The three had driven to the lodge's shooting range together, authorities said.
After the shooting, Routh left in Kyle's truck and drove to his sister's house, where he told her what happened, Haschel said. After he left in the truck to go home, she called police, he said.
Employees found the victims' bodies during a routine check of the shooting range, so an autopsy will be used to determine the time of death, Upshaw said.
Kyle served four combat tours of duty in Iraq and elsewhere, and he won two Silver Stars and five Bronze Stars for bravery, according to his book.
"It just comes as a shock and it's staggering to think that after all Chris has been through, that this is how he meets his end, because there are so many ways he could have been killed" in Iraq, Scott McEwen, who wrote the book with Kyle, told Reuters.
After leaving the Navy, Kyle founded Craft International, a firm that provided combat and weapons training to military, police, corporate and civilian clients.
Kyle is the co-author of another book, "American Gun - A History of the US in Ten Firearms," which will be published in May.
Upshaw said Kyle, who helped design the lodge's shooting range, called ahead to let staff know the group would be there on Saturday, Upshaw said.
Rough Creek Lodge is an upscale retreat that offers horseback riding, fishing, golf, shooting sports and other outdoor activities.
In the wake of the slayings of 20 children and six adults at a school in Newtown, Connecticut in December, Kyle was interviewed in January about rising calls for curbing US gun violence. He told the website guns.com he favored arming teachers who have been screened and trained and spoke against restrictions on gun owners.

Related reading:

A time for US gun-control

Former US Navy sniper shot to death