Mexico digs for answers after oil blast kills 32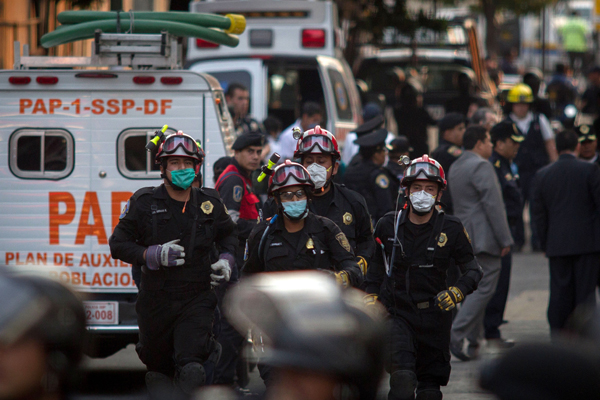 Rescuers work at the headquarters of Mexico's oil giant PEMEX after an explosion in Mexico City, capital of Mexico, on Jan 31, 2013. [Photo/Xinhua]
Rescuers dug through the rubble and investigators searched for answers on Friday after an explosion rocked the headquarters of the Mexican oil giant Pemex, killing 32 people.
Another 101 people were injured in the explosion, which sent shocked employees pouring out of the 54-floor Mexico City skyscraper beneath a pillar of black smoke, some carrying wounded people out on office chairs.
Survivors described an earthquake-like rumble that shook the floor and shattered windows, while the company said the deadly incident was under investigation and that any reports about its cause amounted to speculation.
Officials said the blast ripped through an annex at around 3:40 pm, causing severe damage to three floors. Witnesses said a roof connecting the annex to the tower collapsed. Thousands of people were evacuated.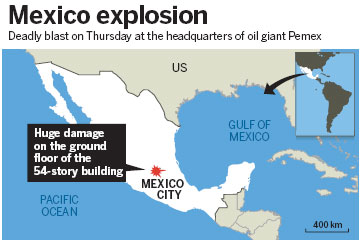 As night fell, floodlights shined on the rubble and two cranes were brought to help rescuers in hard hats and surgical masks look for survivors.
Almost six hours after the blast, President Enrique Pena Nieto said that rescue teams found one more person alive in the rubble.
"I don't have any conclusive report on the cause, which is why I insist against any speculation," Pena Nieto told reporters after visiting the site.
A spokesman for the civil protection agency said there was an apparent "accumulation of gas" in an electrical supply room, but the exact cause of the blast has yet to be confirmed.
Pemex director general Emilio Lozoya Austin said 20 women and 12 men died in the incident, while 52 people remain hospitalized. He said the search for survivors would continue.
Almost eight hours after the blast, Interior Minister Miguel Angel Osorio Chong said at a news conference that it was hard to know if anybody was still trapped in the rubble. He said he had ordered that "national and international experts" be invited to help with the investigation.
"The goal is clear: The investigation must produce precise, trustworthy and convincing data to find out the origin and cause of the disaster," he said.
Emergency workers with rescue dogs, helicopters and several ambulances were at the scene in the capital as dazed survivors lingered, shocked by the destruction.
"We had two minutes to leave the building. I was headed to the pharmacy when the windows broke. It was a deafening noise," said Astrid Garcia Trevino, who worked in the annex. "The floor shook as if it was an earthquake."
Some witnesses told local media that a number of people were trapped in rubble.
"It was dramatic. The building was shaking and suddenly there was debris. We couldn't even see the people next to us," said Pemex employee and union member Cristian Obele.
"Windows broke, people were injured and a lot of people were in shock," an unidentified worker said, describing the impact of the "very strong explosion".