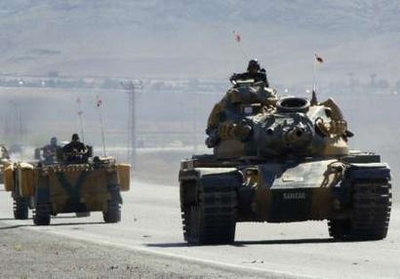 Turkish tanks and armoured vehicles move near the southeastern Turkish town of Silopi, near the Iraqi border, February 22, 2008. [Agencies] 
Turkish troops have crossed into northern Iraq in their hunt for Kurdish PKK guerrillas, the military said on Friday, but the United States and the European Union urged Ankara to keep the campaign limited.
Related readings:



 Turkish jets bomb Kurdish rebel spots in Iraq: TV



 Iraq says no one can stop Kurdish rebels



 Rebels kill 17 soldiers, Turkey vows action



 Iraqi Shiites and Sunnis criticize Kurds

 Turkey says 200 rebel Kurd targets hit

The White House said the United States had been informed in advance of the incursion and urged Turkey to limit the operation to "precise targeting" of the PKK rebels hiding there.
Turkish TV said 3,000 to 10,000 soldiers had entered Iraq, but Iraq's foreign minister and a senior military official with coalition forces based in Baghdad denied it was a major operation, saying only a few hundred troops were involved.
The European Union repeated its call for Turkey, which is seeking EU membership, to refrain from any disproportionate military action.
"The Turkish Armed Forces, which attach great importance to Iraq's territorial integrity and stability, will return home in the shortest time possible after its goals have been achieved," the General Staff said in a statement posted on its Web site.
The General Staff did not specify the size of the operation.
A military source based in southeast Turkey told Reuters: "Thousands of troops have crossed the border and thousands more are waiting at the border to join them if necessary."
A PKK spokesman said rebels were battling Turkish troops.
"There are severe clashes. Two Turkish soldiers have been killed and eight wounded. There are no PKK casualties," Ahmed Danees, head of foreign relations for the PKK, told Reuters by satellite phone from an undisclosed location in northern Iraq.
It was not possible to independently verify his statement.
Iraq's foreign minister played down the operation.
"There has not been any major incursion or land invasion ... What is going on is around a few hundred Turkish forces have crossed the border looking for the PKK or their bases," Hoshiyar Zebari told Reuters by telephone.
A senior military officer with U.S.-led coalition forces based in Baghdad made a similar estimate of the number of troops involved. "A few hundred, at most," the source said.
Earlier, Rear Admiral Gregory Smith, a U.S. military spokesman in Baghdad, said the operation was understood to be of "limited duration" and aimed solely at PKK fighters in the area.