EGLIN AIR FORCE BASE, Fla. -  The Air Force says one of the two pilots whose fighter jets crashed into the Gulf of Mexico has died. The other pilot is in good condition.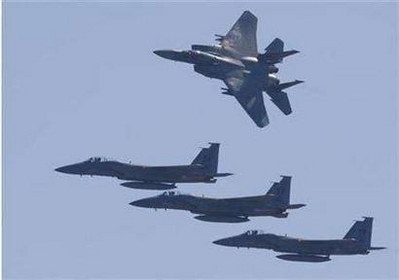 F-15 fighter jets from Tyndall Air Force Base in Florida in Daytona Beach, Florida February 14, 2008. [Agencies]
Two single-seat F-15C Eagles disappeared Wednesday afternoon off the Florida Panhandle, about 35 miles south of Tyndall Air Force Base, Eglin Air Force Base spokeswoman Shirley Pigott said.
The planes crashed during a training exercise "emphasizing basic maneuvers and tactics," said Col. Todd Harmer, commander of the 33rd Fighter Wing, 58th Fighter Squadron.
The cause of the collision was not immediately known, but the Air Force will investigate, Harmer said. Weather in the area was clear.
Both pilots had been with the wing "for quite some time," Harmer said.
A Coast Guard rescue jet located one pilot and radioed the location to a fishing vessel, which picked him up, said Coast Guard Petty Officer James Harless. A Coast Guard helicopter then hoisted the pilot off the vessel.
That pilot told rescuers he saw the other pilot also eject but lost him in the clouds, Harless said. He told them the approximate location for the second pilot, who was found by a Coast Guard helicopter, Harless said.
The Air Force grounded all of its F-15s — nearly 700 — after the catastrophic failure of an F-15C during a routine training flight in Missouri in November. The pilot safely ejected.
Most were back in service by January, but others were grounded indefinitely after defects were found.
The Air Force began using the F-15C in 1979. The planes, built by McDonnell Douglas Corp., were deployed to the Persian Gulf in 1991 in support of Operation Desert Storm and have since been used in Iraq, Turkey and Bosnia.
The planes can fly as high as 65,000 feet, and each costs about $30 million, according to the Air Force.