WASHINGTON -- The US Federal Reserve lowered its forecast on Thursday for economic growth this year as the severe housing downturn and the persisting credit crunch could further restrain consumer spending and business investment.
The central bank now expects the economy to grow between 1.3 percent and 2 percent in 2008, lower than a pace between 1.8 percent and 2.5 percent it projected in October last year.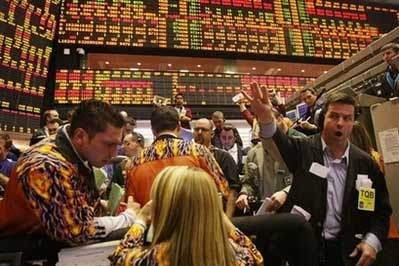 Traders signal offers in the Wheat Options pit at the Chicago Board of Trade in Chicago, Illinois. The US Federal Reserve lowered its forecast on Thursday for economic growth this year. [Xinhua]
"With no signs of stabilization in the housing sector and with financial conditions not yet stabilized, the committee agreed that downside risks to growth would remain" even after the interest rate cuts in January, minutes of the Fed's Jan. 29-30 regular policy-making meeting said.
The Fed also expects higher unemployment and inflation for this year, according to the minutes.
With the economy slowing down further, the unemployment rate is expected to rise to between 5.2 percent to 5.3 percent this year, higher than the Fed's previous forecast rate of 4.9 percent.
Last year, the unemployment rate averaged 4.6 percent.
As energy prices are soaring, the Fed also expects inflation to be between 2.1 percent and 2.4 percent this year. It had forecast that inflation would be at around 1.8 percent to 2.1 percent for 2008.
"These downward revisions to the 2008 outlook stemmed from a number of factors, including a further intensification of the housing market correction, tighter credit conditions amid increased concerns about credit quality and ongoing turmoil in financial markets, and higher oil prices," the minutes said.
Beyond 2008, however, a number of factors are projected to buoy economic growth, including a gradual turnaround in housing markets, lower interest rates associated with the substantial easing of monetary policy to date and appropriate adjustments to policy going forward, and an anticipated reduction in financial market strains, it said.
The Fed expects the economic growth "to accelerate somewhat" in 2009 and 2010.