LONDON - A visiting senior Chinese diplomat said here on Friday that the cooperation between China and African countries was not an exclusive relationship, but an "open and transparent" one.
China has followed two principles - "treating others as equals and pursuing win-win cooperation," to maintain good and long relationship with Africa in a changing world, said Liu Guijin, special representative of the Chinese government on the Darfur issue, when giving an address at the Royal Institute of International Studies, a london-based think tank.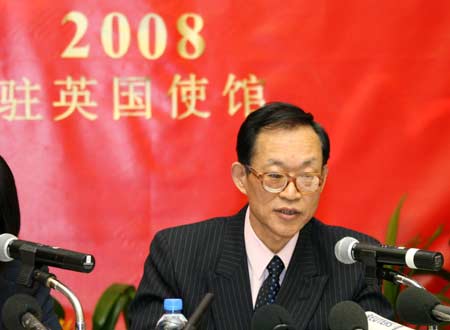 Liu Guijin, special representative of the Chinese government to Darfur issue, attends a news conference held at the Chinese Embassy in London, Britain, Feb. 21, 2008. [Xinhua]
For more than half a century, the friendship and cooperation between China and African countries had been growing in a sound and smooth way, said Liu, who visited London on February 21-23 for talks with British officials on Darfur issue.
China has provided the African people with large amounts of assistance to their need, and China's assistance to Africa would double that of 2006, said Liu.
The Forum on China-Africa Cooperation (FOCAC), established in 2000 on the joint initiative of China and Africa, has become an important channel for China and African countries to strengthen mutually beneficial cooperation and conduct consultations on an equal footing under the new circumstances, said Liu.
At the FOCAC Beijing Summit in 2006, Chinese President Hu Jintao announced eight policy measures to strengthen China-Africa practical cooperation and support Africa's development, said Liu, adding that Chinese leaders visited 13 African countries in 2007 to promote the implementation of these policy measures.
Liu also said that China was willing to work with the western countries to promote the peace and development of Africa, and to achieve social and economic development.
In his speech, Liu also detailed the Chinese government's stance on the Darfur issue, and China's humanitarian development assistance in the region.
The Darfur issue was "complicated" and "sensitive" to be solved overnight, and required a "holistic approach," Liu stressed.
He also urged the international communities to offer more humanitarian and development aid to Darfur, and to continue to make solid efforts towards the resolution of the Darfur issue.  
Liu, 61, a veteran diplomat, is a former ambassador to Zimbabwe and South Africa, and has been engaged in African affairs for more than 25 years. After his trip to London, he will visit Sudan on February 24-27.