ANKARA -- Turkish warplanes bombed targets of the banned Kurdish Workers' Party (PKK) based in northern Iraq on Sunday, private NTV television reported.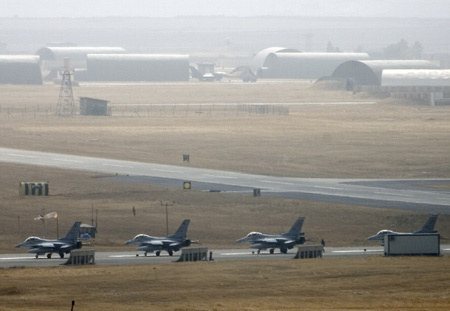 Turkish F-16 jets prepare to take off from military airbase, in the southeastern Turkish city of Diyarbakir in this November 7, 2007 file picture. [Xinhua]
Turkish aircraft struck important targets of the PKK in northern Iraq between 15:00 to 16:00 local time (1300 to 1400 GMT), said the report.
Turkish warplanes bombed several villages in northern Iraq Sunday but caused no civilian casualties, a spokesman for Iraqi Kurdistan's Peshmerga security forces was quoted as confirming.
This is the third air raid aimed at the PKK bases in northern Iraq in no morn than a week as separatist PKK rebels use the Iraqi border areas as a launch pad for attacks against Turkey.
Last Sunday, Turkish warplanes carried out air strikes at some villages near the border in the Qandil mountains, killing at least five PKK members and one woman, and wounding six people, according to a Kurdish security source.
Security operations are underway in southeastern and eastern Turkey as 100,000 Turkish troops have massed along the borders with Iraq in preparations for possible cross-border operations to crush the about 3,000-strong PKK rebels.
The PKK, listed by the United States and Turkey as a terrorist group, took up arms against Turkey in 1984 with the aim of creating an ethnic homeland in the southeast. More than 30,000 people have been killed in the over-two-decade conflict.