ISLAMABAD -- Pakistan's political parties Pakistan People's Party (PPP) and Pakistan Muslim League-Nawaz (PML-N) will form coalition governments in central and provincial levels, leaders of the two parties said here Thursday night.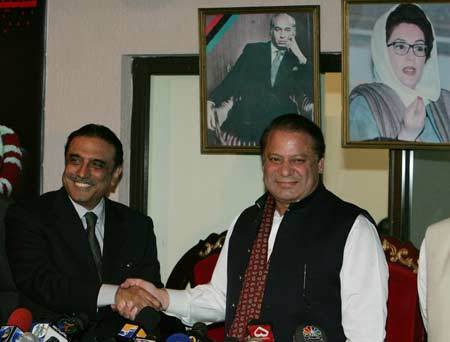 PPP co-chairman Asif Ali Zardari (L) and PML-N leader Nawaz Sharif attend press conference in Islamabad, capital of Pakistan, Feb. 21, 2008. [Xinhua]
PPP co-chairman Asif Ali Zardari and PML-N leader Nawaz Sharif made the statement at a joint press conference after almost an hour of closed-door meeting here Thursday night.
"I have requested Nawaz Sharif to be a part of that government," Zardari told the media.
"We are looking for a broader national consensus government," Zardari said.
"We intend to be together in our struggle for democracy," Zardari said, adding that "We intend to remain together in the parliament."
Regarding the stance towards President Perez Musharraf, Sharif said that "the sooner the president respects the will of the people the better."
Analysts say the coalition of PPP and PML-N will bring great challenge to Musharraf, who in 1999 seized power in a coup.
"We have agreed to restore the 1973 Constitution in its original form," Sharif said.
Related readings:


 PPP's Zardari not to become PM of Pakistan


 3 policemen killed in SW Pakistan


 Sharif not to take post in new gov't


 Official results of Pakistan's elections to be notified on March 1


 Musharraf urged to go as rivals win Pakistan poll
Zardari also said the PPP's first resolution in the National Assembly will be a request for the United Nations probe into the assassination of former Prime Minister Benazir Bhutto.
Bhutto was killed in gunshots and suicide bombing attacks at the gate of the Liaqat Bagh park in Rawalpindi where she addressed an election rally on Dec. 27 last year.
Sharif and Zardari also agreed to reinstate the judges Musharraf sacked last year.
"In principle, there is no disagreement on restoration of deposed judges," Sharif said.
Sharif said earlier Thursday that the deposed former chief justice of Pakistan Iftikhar Mohammed Chaudhry would be reinstated within days.
The lawyers took out to the street in Islamabad and tried to march to the residence of Chaudhry. They chanted slogans against President Perez Musharraf and demanded restoration of Chaudhry.
Chaudhry was sacked on Nov. 3 last year when Musharraf declared a state of emergency in the country. He remained under house arrest ever since.