ISLAMABAD - The official results of Pakistan's general elections held on Monday will be notified on March 1, local TV channel DAWN NEWS reported Wednesday.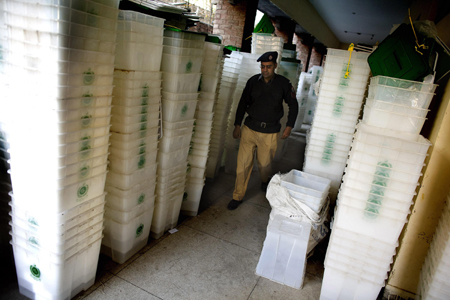 A policeman walks among unused ballot boxes the day after Pakistan's general elections in Lahore February 19, 2008. [Agencies] 
Local newspaper DAWN unveiled on Wednesday the unofficial results of the polling, according to which the Pakistan People's Party secured the largest number of National Assembly seats.
The Pakistan People's Party (PPP) won 88 seats, topping the list of contesting parties in the competition. The Pakistan Muslim League-Nawaz (PML-N), led by former Prime Minister Nawaz Sharif, secured 65 seats as the runner up while the former ruling party Pakistan Muslim League-Quaid (PML-Q) is on the third position with 42 seats.
The unofficial results covered 267 out of a total of 268 slots of National Assembly, which are available for candidates.
Local media reports indicated that the polling staff at some polling station have started to recount the votes due to complaints lodged by some political parties. That is why the Election Commission will not release the official results in a short time.
Supporters of PPP and PML-N have started to celebrate on the results of general elections given by local media.